Bachelor of Arts in Art History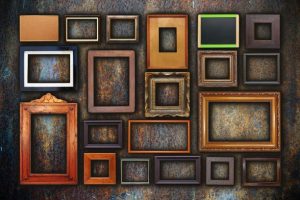 As an art history major, you will study art across a wide range of media, cultures, and periods while you learn about the historical, social, and political contexts. You gain critical thinking and communication skills by conducting research to discern the ideas conveyed by art. A few studio art courses provide a solid understanding of the methods and techniques used to produces visual art.
Students completing the BA in Art History complete the general education courses, courses for the major in art history, and a minor field of study. The more popular minors chosen by our recent art history students include English, art, classics, business, and French. We expect the new Museum Studies interdisciplinary minor to be very popular!
For the 2022-23 academic year, students complete 12 courses of art history and 2 courses of studio art. Download a degree plan to see a four-year sample curriculum.
AH 201 and 202. History of Art I & II
1 course in ancient art (AH 310-329)
1 course in medieval art (AH 330-339)
1 course in Renaissance/Early Modern art (AH 340-349)
AH 355. 20th Century Art
1 course in non-Western Art (AH 380-399)
3 advanced art history courses (300-level or above)
AH 401. Research and Writing in Art
AH 403. Art Theory and Criticism
2 courses in studio art

Art 101. Two-Dimensional Design
1 course in art studio

AH 399. Comprehensive Examination (0 credit hours)
Degree Checklists for Current Students
BA in Art History Degree Checklist 2023-2024
BA in Art History Degree Checklist 2022–2023
BA in Art History Degree Checklist 2021–2022
BA in Art History Degree Checklist 2020–2021
BA in Art History Degree Checklist 2019–2020
BA in Art History Degree Checklist 2018–2019
Art History Courses
Our faculty have specialty in a range of art history courses and offer choices for students to explore their own interests. See the list of all art history courses in current catalog. The featured courses below provide a more in-depth view of the content of several courses and those who teach them.