Art & Art History Student Ambassadors

Angeline Morgan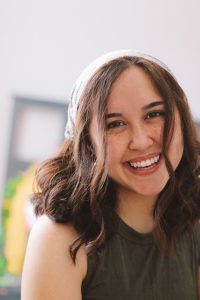 Angel is pursuing the B.F.A in Art with a concentration in printmaking and imaging arts. While she studied digital media technology at DeSoto County Career & Technology Center, Angel worked as a film extra and Foley artist for the DeSoto Arts Institute, and after she transferred to the University of Mississippi worked as a photographer and graphic designer for the Baptist Student Union Media Team Currently, she is the digital content chair for Mississippi Youth Professionals. In addition to her impressive professional endeavors, Angel is also a Sally McDonnell Barksdale Honors College Scholar, an Annexstad Family Foundation Scholar, and a recipient of the Dorothy Lee Tatum Scholarship.
Why did you choose to attend UM?
The abundance of resources, the beautiful campus, and the welcoming community in and around the UM Art Department all influenced my choice to attend UM.
When and why did you choose your major/minor?
I chose to major in art around the time that I graduated high school. I wanted to pursue my loves for design and digital media in a new way, surrounded by other talented peers and mentors.
What are your career goals?
My career goal is to specialize in digital media at a local nonprofit.
Is there a professor who has been particularly helpful to you?
My Art 102 professor, Joshua Brinlee, really helped me feel welcomed in to the art department while navigating virtual classes. His advice and kindness will stick with me.
What has been a particularly meaningful way you have engaged in a community? (Either on or off campus?)
I am currently working with MS Youth Professionals to create a program to amplify the voices of BIPOC and LGBTQ+youth with the hopes of one day using the skills I learn to become a foster advocate.
What do you like to do outside of school (hobbies/interests)?
Outside of classes, you will find me cooking, gardening, or curling up with a good read.
What are you binge watching/reading/listening to?
I'm reading Here Comes the Sun by Nicole Dennis-Benn and The Midnight Library by Matt Haig.
What is your favorite place to eat in Oxford?
I love grabbing Boba tea and egg rolls at Mi & Tea.
What are some dream travel destinations (and why?)
Iceland is on my travel bucket list because I have always wanted to see the Northern Lights and pursue wildlife photography during a trip there.