Painting
Students learn to work in diverse styles of representational, imaginative, and abstract painting. Light, color, texture, and tone are the tools they use to create a broad array of two-dimensional art. Whether they are working in tempera, fresco, oil, watercolor, ink, or other visual media, they create unique visual images that are expressions of an adept and inspired studio practice.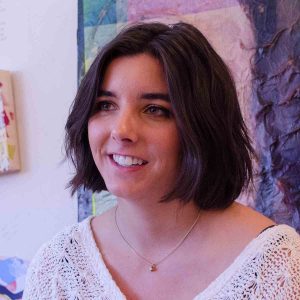 Meet Ramsay Stayer (BFA in Art, emphasis in painting '20)
"The Art Department feeds into the individual rather than one overarching idea. I was drawn to this idea of one working unit, but each person has their own voice within it."
---
Meet the Faculty
Representational artist Philip R. Jackson paints in the still life tradition capturing the essence of life in a still moment. Named the"still life painter for the 21st century" by a former curator of the National Gallery of Art in Washington D.C., Jackson's still life paintings have been widely received and featured in many premier art magazines and are part of numerous private, corporate, and museum art collections nationwide.
Kariann Fuqua, Instructional Assistant Professor of Art, is the Director of the new minor in Museum Studies. Her work as an abstract artist has been exhibited at numerous venues across the U.S. including Chicago, New York, and San Francisco, and is in many public and private collections. Her professional career has traversed between academia and the museum world, which has shaped her interest in provenance research, cultural heritage, and exhibition design.
The work of Brooke Alexander, Instructional Assistant Professor of Art, merges reality and the imaginary. Painting predominately from life, she is drawn to the beauty found within natural forms but is always lead back to the figure. Influenced by artists and literature in equal measure, her representational paintings contain narratives that explore spaces, encounters and relationships through the language of paint.
---