Painting: Academic Program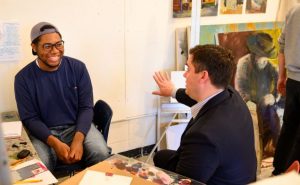 Undergraduate students can earn the Bachelor of Art (BA) degree in Art or the Bachelor of Fine Arts (BFA) degree in Art, with an emphasis in painting. Graduate students earn the Master of Fine Art (MFA) degree with an emphasis in painting.
The BA degree has a deeper and wider general education foundation than the BFA degree. The BA degree provides flexibility for combining the study of art with a different field of study as a required minor. BA students can use their art electives to focus on the studio area of their choice, such as painting. Students can choose to enter the BFA Studio Art program during the regular UM admissions process. After completing the foundation core and having a minimum cumulative GPA of 2.0 and 2.5 GPA in all art and art history courses, BFA students participate in the BFA Foundations Review to stay in the BFA degree. BFA students then gain wider training across the studio areas, gain depth in their area of emphasis, build a professional portfolio, and hold a final thesis show.
The MFA degree is a three-year program that prepares students to teach at the college level and work as a professional artist. The third year is dedicated to the creation of the MFA thesis exhibition.
---
Painting Courses
From beginning through advanced painting courses, this program introduces students to the many mediums used in painting today, focusing on a strong foundation in color theory and color sighting which equips students to analyze and interpret any color situation. Projects consist of observational exercises that present complicated color problems; indirect painting techniques that explore the historic painting methods of glazing; an exploration in abstraction to dissect the fundamentals of design and image formation; and a knowledge of materials and methods related to surface preparation and art presentation. The business of art is discussed throughout the program, preparing students how to present their art and themselves professionally. Students are given the opportunity to discuss their work in art talks and exhibit their work in our department gallery as well as commercial gallery venues.
These featured courses provide more detail on a few painting courses and samples of student work.
Here are all painting courses.
Art 321. Beginning Painting. Introduction to acrylic and oil painting techniques with highly structured assignments, including working from observation.
Art 322. Intermediate Painting. Expansion of techniques learned in Beginning Painting; use of oil paint and focus on developing a concept, working in a cohesive series, and producing a substantial number of paintings.
Art 323. Plein Air: Painting the Landscape. Outdoor oil painting of the landscape; use of color palettes associated with the subject and develop an individual painting approach.
Art 326. Watercolor. Water painting techniques and the use of materials and tools for the exploration of water-based media on paper.
Art 421. Painting. Further development in techniques with emphasis on individual selection of content.
Art 521. Painting. Special problems in painting with emphasis on individual development.
Art 523. Plein Air. Outdoor oil painting of the landscape; develop alternative color palettes with emphasis on individual directions.
Art 526. Watercolor. Advanced work in water-based media on paper including special problems designed on an individual basis.
Art 621. Painting. Special problems in painting with emphasis on individual development.