Graphic Design
Graphic design is an artistic and commercial discipline that balances technical ability and skills in artful presentation. Our exclusively undergraduate classes are the foundation of a professional career. Students use their creative and intellectual talents to problem solve in rigorous courses that prepare them for careers using the visual representation of symbols, images, and words to convey ideas and messages. We create an atmosphere that stresses creative and intellectual thinking while maintaining the integration of new technology. Graphic design is offered as an emphasis area of study only for undergraduate students.
See more photos of Graphic Design!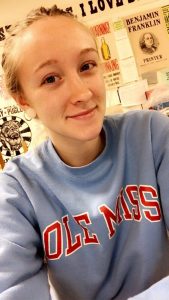 Meet Sarah Roper (BFA in Art, emphasis in Graphic Design '20), a transfer student from Itawamba Community College, who excelled in the graphic design program.

"I've been making art since I was a little kid, and I knew I had a knack for it. After I finished an AP art course in high school, I knew I wanted to continue doing art throughout college."
---
Meet the Faculty
The graphic design studio is headed by Ginny Chavis, Acting Associate Provost and Professor of Art, who received a prestigious 2019 Artist in Residence at La Maison Verté, located in Marnay-Sur-Seine, France. Even beyond all her awards and recognitions in the field of art, she was the academic advisor of the year at UM and received an award for her extraordinary student mentorship from the National Association of Academic Advisors.
Tyler Barnes, Associate Professor of Art, has earned ten American Advertising Federation Awards, including two district ADDY's, and has been featured in several publications. His most recent regional Gold ADDY was for his label design for River Basin Distillery in the category of Sales and Marketing-Packaging from the American Advertising Federation's Ad Club of New Orleans.
Bryce Heesacker, Assistant Professor of Imaging Arts, who works as an artist under the moniker F. C. Zuke, creates audiovisual and interactive artworks that investigate the ways in which beliefs are acquired, transmitted, and performed in society.
Dason Pettit, Instructional Assistant Professor of Art, is equally inspired by cinema, literature, and philosophy, Dason Pettit's photographic work often explores notions of stability and memory within the narrative framework. Disintegration and distortion are key themes within his work and they reveal multiple perspectives regarding the subject matter. Metaphor functions as a way to represent analogous ideas within one body of work and also provide a context that deepens the relationship of the images to each other.
---