Graphic Design: Beyond the Studio
Learning art is more than what's learned in the traditional studio courses. Students can join the activities of the graphic design student organization, interact with visiting artists, volunteer with the UM Museum, and intern with a relevant site.
GRID (Getting Rebels into Design)
GRID's goal is to promote interest in the field of graphic design outside of the classroom by encouraging active involvement in on-campus programming and events as well as being active participants in the local design community in Oxford. Through sponsored activities and events, GRID students gain valuable industry experience and knowledge that serves to bridge the gap between student life and professional practice, cultivating future leaders in the design industry.
"We mainly talk about graphic design, plan trips that relate to graphic design, production companies, or ad agencies in the area or conferences. We want to foster a community of student designers here at the university. The industry is huge and can kind of seem daunting at times for those just beginning their path towards design as a career, so our prerogative is to just foster that interest and maybe demystify some of the anxiety about the industry." – Recent GRID president, Eli Morgan (BFA in Art, emphasis in Graphic Design; BA in English, emphasis in Creative Writing '19)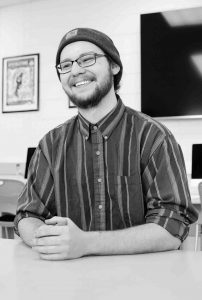 "We went to Crop Con last year in Baton Rouge. We were the only students there and among all professionals. That's how I met the Brethren Design Company. I ended up talking with them at an afterparty and they were super nice. They gave me some stickers and patches which were freaking awesome. I went home and looked them up. Their work is absolutely incredible. Its two brothers and they both have corporate jobs but they made this freelance agency called Brethren and it is fantastic." – Wyatt West (BFA Art, emphasis in Graphic Design '20)
Follow GRID on social media! Check out their Instagram.
---
Art Talks
In addition to the many artists who visit campus through GRID, the department also has an established visiting artist program called Art Talks. This program creates access to artists in person and via webcam, and helps students and faculty to keep pace with critical thought, contemporary artistic practice, and emerging technology used in cultural production today.
The list of visiting graphic designers includes:
"One of my favorite things the art department has to offer is lectures and workshops by visiting artists. When I graduate I'll definitely miss the resources and ability to learn from artists all over the world." – Anna Breland (BFA Art, with an emphasis in Graphic Design '20)
---
UM Museum
Four of the last five years our museum has been named to EDsmart's list of "51 Most Astounding University Museums", with a recent ranking of 17—one spot ahead of Princeton University. Many art students intern or volunteer with the UM Museum where they might work with art education programs or curate an exhibit.
---
Internships
Students and faculty work together to identify relevant internships. For graphic design students, there is a great range of possible internships, from design studios to entertainment venues to media outlets. The UM Office of Outreach's formal Internship Experience program also assists students with internship placements in any area of career interest in Atlanta, New York City, and Washington D.C. Internships provide valuable work experience, professional networks, further application of art skills, and a stronger resume.
"I took an internship here in Oxford, MS with Vaughn Design. That internship really taught me how to use the programs the professionals use in a real-world context rather than class projects. After that, I went to another internship in New York City. That's where I got into motion. It was a motion graphics startup company called Oddsense. They taught me that you can teach yourself a lot of this stuff too once you've formed a foundation, take it and run with it basically. That's why I decided to incorporate motion graphics into my thesis. From that internship, I grew to love motion graphics." – Maggie Hubbard (BFA in Art, emphasis in Graphic Design '19)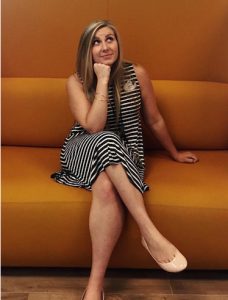 Read about two former students' internship experiences with Disney and Cartoon Network. Heidi Bain applied for about 10 different internships before she found the Disney opening on the company's Professional Internst website. She applied online, submitted her portfolio for review, and did phone and Skype interviews before she landed the position.
"I have already used many things I learned in my core art classes, such as knowledge on color theory, typography and elements of 2-D design," Bain said. "The knowledge I gained from my BFA in graphic design at Ole Miss has been very beneficial with how to professionally respond to clients and explain the reasoning behind why some designs work best, and why and some don't communicate ideas effectively." – Heidi Bain (BFA in Art, emphasis in Graphic Design '17)
---
Study Abroad


Art history majors have exciting opportunities to experience the art and architecture abroad. They can arrange their own study abroad experience through the Office of Study Abroad. Or, they can travel with UM faculty. One possibility is the formal course titled Art on Location, where UM faculty can take a course of students to different locations around the US and abroad. For example, in the 2-week Winter Intersession in the first two weeks of January 2019, art historian Dr. Louise Arrizoli teamed up with a French professor to offer a study of art in Paris, France.