Art Careers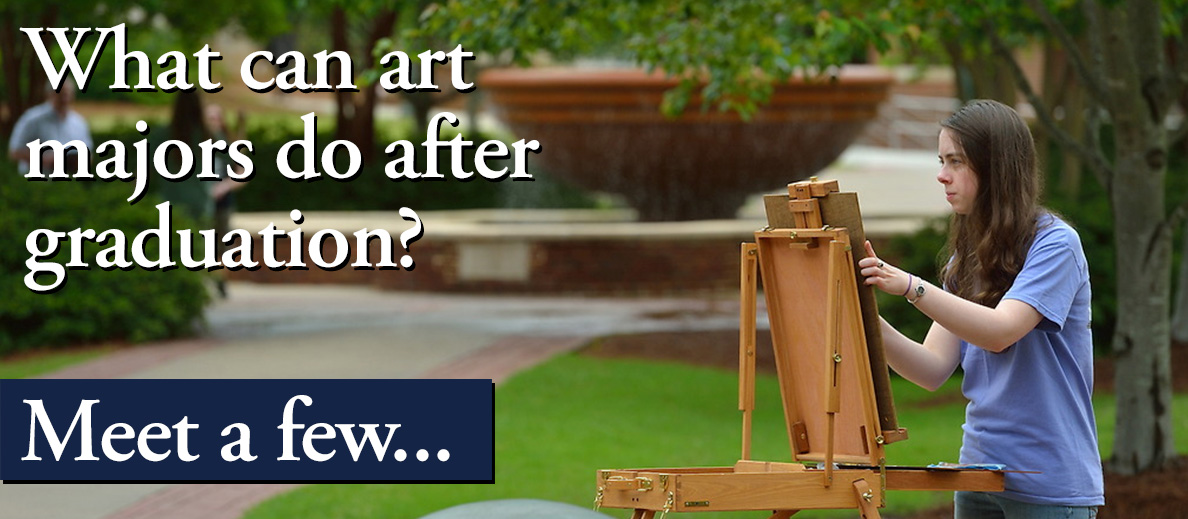 Art Careers
Our graduates establish such a wide range of careers and become leaders of their organizations because of the core set of skills at the heart of our liberal arts education.
Related careers in art include professional fine artist, educator, graphic design, web design, animation, display/set/exhibit design, art appraisal, production pottery, public relations, architectural modeling, textile design, art therapy, arts administration, museum administration, media buyer, marketing, and interior design.
These careers illustrate the variety of places our graduates take their skills and talents:
Our graduates are...
Creative Directors at CNN and at FOCUS Brands
Graphic Designer, Churchill Downs, Walt Disney World, Isle of Capri Casino, and other entertainment venues
published and award winning novelists, music producers and songwriters
Professional Football Player, Jacksonville Jaguars
Manager, Galerie d' Art
many professional artists and actors
Webmaster, Oxford School District
Multimedia Specialist, Daily Journal
Sales, Prentice Hall College Publishing
Talent Manager, FuseFX
Associate Publicist, HarperCollins
Content Marketing Specialist, Turner Broadcasting Network
Master Planner, Walt Disney Imagineering
Director of Learning and Innovation, Minneapolis Institute of Art
Interior Designer, Melissa Lacy Design
Director of Collections and Exhibitions, Walter Anderson Museum of Art
Programmer and Social Media Buyer, Frontier Media Strategies
Scenic Artist, Denver Center Theater Co
Producer, Our American Network