Ceramics
Ceramics is an ancient art, dating back to prehistory. Our students learn to use clay as an artistic medium: throwing, building, molding, glazing and firing—as well as experimentation with new techniques. Students explore individual ideas and develop a personal vocabulary of aesthetics.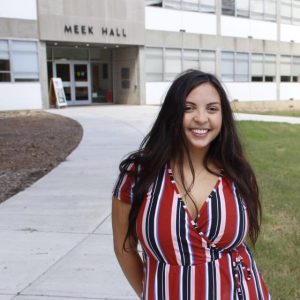 Meet Rosa Salas (BFA in Art, emphasis in ceramics '20), an international student from Venezuela who is headed into a teaching career. She was selected as part of just a handful of graduating seniors for a Journey to Commencement feature on the university's website.
"I've definitely grown a lot and I've learned everything I know about art from this department. I came in with no background in art other than the appreciation for it."
---
Meet the Faculty
The ceramics program is headed by Matt Long, Professor of Art for the Department of Art and Art History, who won the most outstanding teacher award in the College of Liberal Arts. Beyond campus, Matt is recognized at the top of his field with what his colleagues report as "celebrity-like status" and is sought after by institutions across the country to have him lecture or give a workshop.
In addition to graduate students, our Instructor and Ceramic Technician Ray Brown assists in teaching and maintaining the ceramics lab.
---