Ceramics: Academic Program
Undergraduate students can earn the Bachelor of Art (BA) degree in Art or the Bachelor of Fine Arts (BFA) degree in Art, with an emphasis in ceramics. Graduate students earn the Master of Fine Art (MFA) degree with an emphasis in ceramics.
The BA degree has a deeper and wider general education foundation than the BFA degree. The BA degree provides flexibility for combining the study of art with a different field of study as a required minor. BA students can use their art electives to focus on the studio area of their choice, such as ceramics. Students can choose to enter the BFA Studio Art program during the regular UM admissions process. After completing the foundation core and having a minimum cumulative GPA of 2.0 and 2.5 GPA in all art and art history courses, BFA students participate in the BFA Foundations Review to stay in the BFA degree. BFA students then gain wider training across the studio areas, gain depth in their area of emphasis, build a professional portfolio, and hold a final thesis show.
The MFA degree is a three-year program that prepares students to teach at the college level and work as a professional artist. The third year is dedicated to the creation of the MFA thesis exhibition.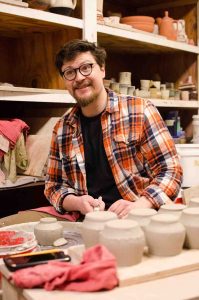 Meet Will McComb, a recent MFA graduate from the ceramics program.
"As soon as you touch the clay it responds and there is something really empowering and powerful about that. The longer I worked with it the more interested I got in my ability to construct and build things and then eventually to make pottery"
---
Ceramics Courses
Ceramics courses encourage students to explore individual ideas through material and process. Through technical experimentation, they become skilled at making clay and glazes and firing electric, gas reduction, salt, soda, and woods kiln. The featured courses below provide more detail and samples of student work.
Here are all ceramics courses.