Bachelor of Fine Arts degree in Art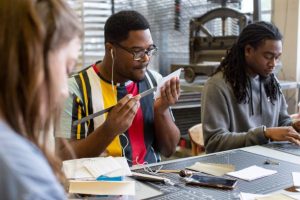 Students seeking professional portfolios will pursue the Bachelor of Fine Arts degree (BFA). This degree allows for a emphasis in ceramics, painting, printmaking, graphic design, imaging arts, or sculpture. Admission to the BFA program is by competitive portfolio review after the student has completed 18 credit hours of studio art. BFA Interviews are held mid-semester in the fall and spring.
BFA candidates are required to present an exhibition during their senior year that demonstrates their achievement in developing a mature and cohesive body of creative work. The BFA degree is also the foundation for graduate study.
Click here for the BFA Handbook.
Academic Requirements
For the 2020-21 academic year, BFA students complete 25 art courses (70 credit hours) and 5 art history courses (15 credit hours). They are also required to have a minor field of study. Download the degree sheet to see a 4-year curriculum plan and see the list of all art courses in the current catalog.
Art 101. Two-Dimensional Design
Art 102. Color Theory
Art 103. Three-Dimensional Design
Art 111 and 211. Drawing I and II
Art 311. Figure Drawing I
One course from

Art 201. Digital Imaging
Art 202. Photo Imaging
Art 360. Vector Imaging
5 First-Level Studio Core courses (15 hours) from:

Art 331. Beginning Sculpture
Art 340. Beginning Ceramics
Art 361. Graphic Design I
Art 371. Intro to Printmaking
Art 381. Beginning Imaging Arts
Either Art 321 or 323. Beginning Painting or Plein Air
5 Second-Level Studio Core courses (15 hours) from:

Art 312. Figure Drawing II
Art 332. Intermediate Sculpture
Art 371. Intermediate Printmaking
Art 383. Intermediate Imaging Art
Either Art 322 or 323. Intermediate Painting or Plein Air
Either 362 or 364. Graphic Design II or Web Design II
Either 341 or 342. Pottery or Handbuilding

5 Advanced Studio courses (15 hours) at the 300 or 400-level, with 4 courses in one studio area
Art 405. Pre-thesis Forum (0 hours)
Art 491. Thesis Exhibit (3 hours)
Art 492. Senior Seminar (1 hour)
5 art history courses (15 hours)

AH 201. History of Art I
AH 202. History of Art II
AH 401. Research and Writing in Art
2 art history elective courses at the 300-level or higher
Degree Checklists for Current Students
BFA in Art – Studio Degree Checklist 2020–2021
BFA in Art – Studio Degree Checklist 2019–2020
BFA in Art – Studio Degree Checklist 2018–2019
BFA in Art – Studio Degree Checklist 2017–2018
Learn About Each Studio Area
Setting the Foundation
"The foundational classes, especially color theory, taught me how complex art can be, and that nothing in art is truly accidental. No one color is placed the in the manner that is and where it is just because, there is a lot of thought behind each area of a piece of art. Once I learned this, the department helped me figure out how to apply these fundamental lessons to my own art while combining my own abstract thoughts." – Ramsay Stayer (BFA in Art, emphasis in Painting '20) https://art.olemiss.edu/ramsay-stayer/
Featured Courses