Caroline Boykin – Alumna Spotlight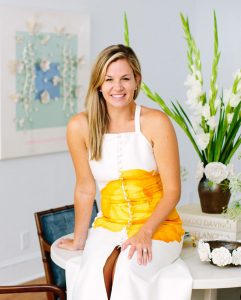 Professional Artist
Hometown: Fairhope, AL
BFA in Art, emphasis in Ceramics (2009)
Artist Website
Caroline Reehl Boykin has been creating art professionally for over 10 years. Her work has been published and featured in major publications including Elle Decor, Southern Living, Flower, Luxe Interiors, along with many others. She is inspired by her everyday surroundings in Raleigh, NC, and the land she grew up amongst in rural Alabama. Elements of nature, architecture, and life combine in many mediums to create a tension in weight of color and balance the delicacy of subject. Her flowers are in full bloom, focusing on internal strength and external beauty. The intent is not to be precious but to pull the viewer into a conversation of life and movement.
Where did your love of ceramics originate?
My first time ever working with clay was a Beginning Ceramics class with Matt Long. I had not had the opportunity to create in clay until Ole Miss and fell in love with it immediately. Matt was an incredible professor that saw my potential and pushed me to find my artistic voice through porcelain. After that initial class I changed my BFA emphasis from painting to ceramics.
What were some of your favorite classes in the program, and what were you involved with beyond the studio/classroom?
There were so many classes that I enjoyed at Ole Miss. Figure Drawing and Printmaking were favorites outside of the Pottery Studio. Being a member of the Mud Daubers was a lot of fun. The student sale and Double Decker with the Mud Daubers were instrumental in learning how to price and sell my work.
Tell us about your path since graduation, and including how you continued as a working artist.
After graduation I took my thesis show back to my hometown and had a small solo show. From selling those initial pieces I was able to purchase a wheel and start my career as a potter. Little by little I grew a following through selling on Etsy, word of mouth, and selling wholesale in a few boutiques. As time went on I was able to launch my own website and get an LLC for my business. There have been many twists and turns and failures, but by taking strategic small steps I have been able to be a consistent working artist and pursue my passion.
Could you talk about your process in creating a piece?
My work is all about the process, as I think most ceramicists would say! Working in clay is a bit of a create and wait, create and wait. I like to tackle a body of work in stages. I will start by creating a large amount of handmade porcelain flowers and leaves. While those are drying or firing, I will then start painting the canvases. As my porcelain pieces finish firing I will then bring them into the painting studio to start the dance of placing the flowers on to the painted canvas. That is where the magic really happens as the paint and the porcelain begin to speak to each other.
What would you say is the importance of studying art in today's world?
Studying anything and everything, your whole life is so very important. The past informs the present and as Egon Schiele once said "There is no new art. There are new artists." I am certainly not the first artist to make a porcelain flower and will not be the last. But my time studying art, and different forms of creating art, inform the way I can confidently approach my work.