Facilities: Graphic Design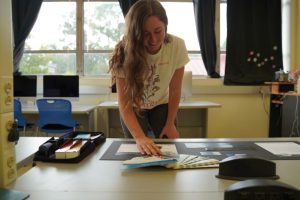 Lab hours outside of regular class time:
Wednesday: 6:30–9:30 PM
Friday: Open Lab – Monitor here from noon-2 PM
The graphic design facility is housed on the first floor of Meek Hall. Graphic Design courses are mainly taught in the graphic design computer lab, Meek 117, with storage/resource material located in the Graphic Design Resource Room, Meek 115. Letterpress classes are taught in Meek 113.
The Graphic Design Computer Lab houses iMac computer stations as well as laptop docking stations, accommodating students who bring their own laptops to class. This room houses courses in graphic design, web design, vector imaging and photo imaging. The lab accommodates approximately 90 to 100 students taking design courses. It also is used on occasion by an art history class as well as all faculty, staff, and students in the department.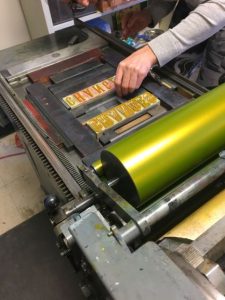 The Graphic Design Resource Room is currently used to store student projects, past MFA theses, BFA Thesis notebooks and resource annuals for graphic design students.
The Control Room is located between the Graphic Design Computer Lab and the Imaging Arts Computer Lab. It contains a color LaserJet printer with capable of printing 11" x 17" and a Mac Xserve server, which controls both labs.
Letterpress printing is also part of our curriculum. Letterpress is currently housed in Meek 113 as well as the Graphic Design Computer Lab.
---
117 Graphic Design Computer Lab (733 square feet)
1 Epson 3LCD Projector
1 two-sided, free-standing marker board (72" x 48")
1 HP LaserJet 700 M712 printer
1 HP Color LaserJet Enterprise M750 printer
18 iMac computers with Intel processors
1 Epson Perfection V600 flatbed scanner
Software
Adobe Creative Cloud
Microsoft Office
121 Computer Lab Control Room (199 square feet)
1 Quad Core Intel Based Xserve, with Raid in rack with battery backup
1 Printing Station:
1 HP Color LaserJet CP5525dtn, printer (prints tabloid size)
1 iMac computer with USB connection to printer
1 RotaTrim paper trimmer 12" x 18"
1 RotaTrim paper trimmer 12" x 15"
1 Book binding machine
1 Quartet paper cutter (cuts up to 50 sheets of paper up to 11" wide)
1 Wireless switch
1 Work table