Painting: Beyond the Studio
Learning art is more than what's learned in the traditional studio courses. Our courses are complemented with demonstrations, lectures, and critiques from faculty and visiting artists. Students can interact with visiting artists, volunteer with the UM Museum, intern with a relevant site, or study abroad.
Follow our Painting area on social media! Check out their Instagram account.
---
Art Talks
Art Talks is visiting artist program that creates access to artists in person and via webcam, and helps students and faculty to keep pace with contemporary artistic practice and emerging technology used in cultural production today. Students also expand their professional networks. The list of visiting painters includes:
John Alexander, Professional Artist
Jere Allen, Professional Artist
Gary Baseman, Professional Artist
Valerie Jaudon, Professor of Art, Hunter College, NYC
David Jewell, Professional Artist
Joe Morzuch, Faculty, Mississippi State University
Laura Mullen, Senior Artroom Practitioner at Royal Cornhill Hospital and Royal Aberdeen Children's Hospital
Yvonne Petkus, Professional Artist
Brian Rego, Professional Artist
Michael Williams, Professional Artist
---
UM Museum
Four of the last five years our museum has been named to EDsmart's list of "51 Most Astounding University Museums", with a recent ranking of 17—one spot ahead of Princeton University. Many art history students intern or volunteer with the UM Museum where they might work with art education programs or curate an exhibit.
---
Internships
Students and faculty work together to identify relevant internships, both on campus at the UM Museum and off-campus at a variety of sites. The UM Office of Outreach's formal Internship Experience program also assists students with internship placements in Atlanta, New York City, and Washington D.C. Internships provide valuable work experience, professional networks, further application of art history skills, and a stronger resume.
---
Study Abroad
Art history majors have exciting opportunities to experience the art and architecture abroad. They can arrange their own study abroad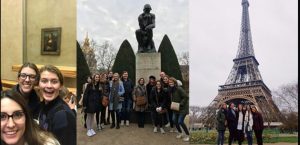 experience through the Office of Study Abroad. Or, they can travel with UM faculty.
One possibility is the formal course titled Art on Location, where UM faculty can take a course of students to different locations around the US and abroad. For example, in the 2-week Winter Intersession in the first two weeks of January 2019, art historian Dr. Louise Arrizoli teamed up with a French professor to offer a study of art in Paris, France.
"I went to Paris for study abroad before I tried out for the BFA. I just had to travel abroad. That experience heavily influenced my portfolio to apply for the BFA program. I participated in a program with Calcum Fraser from London, a classical, renaissance painter. He would take us places to paint such as Versailles, The Louvre, Rodin Museum, Musée d'Orsay, Musée de l'Orangerie, and Petit Palais. We would take our palettes and easels and we would just paint." – Sarah Browning