Facilities: Painting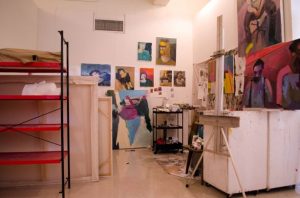 The main teaching rooms (Meek 216 & 218) are designated for teaching of Beginning and Intermediate Painting. Items used in the space include easels, taborets, storage cabinets for still life props, a locking cabinet for hazardous materials, collection receptacles for liquid and solid hazardous waste, an air spray booth, a sink for cleanup, an eyewash station, a tool storage box, and student storage shelves (36 spaces).
The advanced undergraduate painting room area (Meek 220) is used by 7 to 11 students over the course of a semester. Furnishings include a locking hazardous material cabinet, a cleanup sink, eyewash, storage cabinets for props and supplies, easels, taborets, and a collection receptacle for solid hazardous waste material.
Each graduate painting studio (Meek 207, 211, 213, & 215) is provided with storage shelves, easels, taborets, and a window exhaust fan.