AH/ANTH 336. Viking Art and Archaeology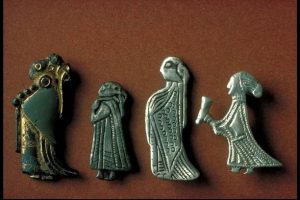 Viking Art and Archaeology is taught by Dr. Nancy Wicker, who earned her PhD from the University of Minnesota. Her interdisciplinary research specialization includes the art and archaeology of Scandinavia from the Migration Period of the 5th and 6th centuries through the Viking Age, c. 750–1100.
This course is a broad overview of the art and archaeology of the Vikings and their predecessors as well as an introduction to the written sources that inform us about the Vikings. Different aspects of political, social, cultural, and religious changes within Scandinavia are treated, including the transition from paganism to Christianity; burial customs; gender and diversity; production of art and crafts; raiding, trading, and settlement; and incorporation into medieval Europe.
After completing this course, students should be able to:
identify the regional and period styles of pre-Viking and Viking art;
apply vocabulary and concepts to analyze Viking art in its archaeological context;
understand the principal themes, subjects, and symbols in the art of the Vikings;
relate Viking art to its cultural, economic, political, social, and intellectual contexts;
critically assess written and material culture sources that shape current interpretations of the Viking Age; and
examine issues of gender, cultural diversity, and colonialism in Viking Age culture, in Scandinavia as well as in the wide world touched by the Vikings.
"As someone who is passionate about Medieval Studies, especially within the field of Nordic culture, I found this class to be extremely enlightening. Dr. Wicker is equally enthusiastic about the subject, and her dedication to the subject matter creates an immersive learning environment for students of all backgrounds. Now that Vikings are a part of the pop lexicon, this class does an amazing job at demystifying many modern misconceptions while also highlighting the truly unique aspects of the real Viking Age, which Dr. Wicker is more than happy to share with her extensive knowledge and artifact replicas that make for great show-and-tell discussions!" – Eli Morgan (BA in English, creative writing emphasis; BFA in Art, graphic design emphasis '19)