Introduce yourself and tell us where you are from.
My name is Grace Moorman. I am a senior art history major and a minor in anthropology.
What attracted you to the University of Mississippi?
I'm from Jackson [Mississippi] so it made a lot of sense to me to come in-state. But when I came in, I was actually an education and history major. I always knew I wanted to work in a museum but I didn't actually know art history was a major until I took Dr. Arrizolli's Art History 101 class my freshman class and I absolutely loved it and switched over. I also started at the [University of Mississippi] museum my freshman year and so that kind of threw me in. I was just happy once I got here and fell in love with the museum and art history.
What made you switch over to study art history?
Dr. Arizzoli's class was kind of that survey entrance into art history. Plus, she is so sweet and so wonderful. I've always loved art and museums but I didn't realize you could study the history of art. So, I switched after taking that class and realizing that it's just such a cool way to study human history and human culture. Not to sound cheesy, but everything about the study of art history is just so nice.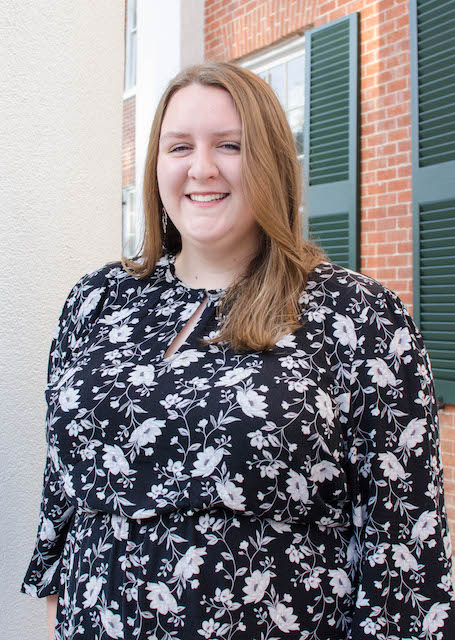 Why did you choose Anthropology as your minor?
I chose anthropology because it goes hand in hand with art history. Especially when you are talking about archeology and the study of objects and artifacts. But also, art can tell so much about a specific culture, which is an aspect of anthropology that I am really interested in. Whether you're looking at ancient Greek pots, a portrait of Marie Antoinette, or ancient jewelry, they're all art and all connected to human culture. I think that any art historian that is interested in how the art connects to the social order of things has some interest in anthropology. I just think that anthropology offers another way to understand human culture that goes along with looking at the art.
Being an art history major, did you have to take any studio classes?
Yes. I had to take three. I took 2D Design, Ceramics (my 3D credit), and Color Theory. I took Stacey Rathert's 2D class, Matt Long's ceramics, and Josh Brinlee's Color Theory. I was not particularly good at any of them, but I had a really good time. I literally cannot express how much I appreciated the professors being so sweet and wonderful and recognizing that studio art is not my forte. I actually really enjoyed them, though, and they're really helpful in learning about the processes used to make the works of art that I study and write about. I gained a new appreciation for the work that really goes into everything that artists produce.
How has the art department fostered your growth as a student?
Oof! The art department, love them! I can't speak highly enough about Dr. Kris Belden-Adams. She is my academic advisor and has held my hand throughout this entire four-year process of undergrad. She is also my thesis advisor for Honors College. She has been there literally every step of the way; answering my crazy emails and letting me just have meltdowns in her office. But she in particular has really encouraged me to apply for internships. She has written me letters of recommendation, Dr. Arizzoli has written me letters of recommendation as well. It's just a fostering environment where they encourage you to do whatever you want to do and make it seem like it's actually a possibility.
You mention the Honors College, could you talk about your experience with the HC?
Yeah! I started my freshman year in the Honors College, and I think that was actually another reason why I ended up liking art history because it was Dr. Arizzoli's Honors AH 101, so it was a smaller class and more one on one. I really enjoyed that. The HC has been awesome because not only do you get the smaller classes but then they also allow you to write a senior, undergraduate thesis which is really important for grad school and art history, as it's such a writing-based discipline. So it can only be a good thing that they are giving me the opportunity to practice a big writing and research project. I've actually learned a lot through writing my thesis, so I am thankful for the opportunity that the HC gives to us seniors.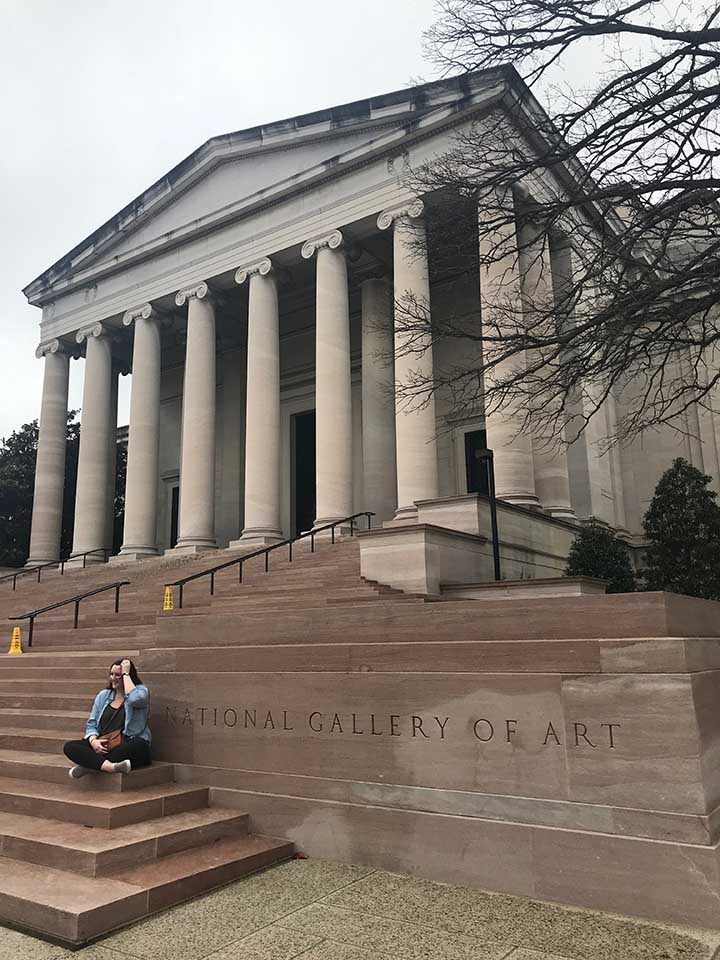 Tell us about your internships.
I did an internship at the National Portrait Gallery in D.C for the spring semester a year ago. I was in D.C. for the entire spring semester working under Robin Asleson who is the NPG'S Curator of Prints and Drawing. I was basically a researcher for an exhibition that is upcoming in 2021 called Brilliant Exiles: American Women in Paris, 1900-1939. It focuses on all of these super avant-garde women creatives who left America for Paris, in large part because America had a pretty conservative culture compared to early 20th century Paris. all these different women; writers, artists, musicians, and poets found their artistic freedoms to varying degrees in Paris. These brave women left the U.S. to find their artistic freedom, and the exhibition is celebrating them and trying to understand why they could be successful in Paris and not in the U.S. and also why they've been overlooked in a bigger art and history cannons. Trying to establish why and how some artists (particularly women) are left out of the major textbooks is actually one of my favorite parts of art history. So being able to have a real role in reimagining the cannon was beyond amazing. That's one of my real loves of art history.

Which professors inspired/mentored you the most?
Again, I can't speak highly enough about Dr. Kris Belden-Adams but truly every professor both studio and art history has been awesome. I've learned a lot from everybody. I've enjoyed every single art history class and studio class that I have taken. Dr. Arrizoli is my second reader on my thesis, and I'm super pumped to have her on board because she is European focused and I'm working on Impressionism which has a lot of roots in Europe.
Could you talk about the Vasari Society?
Yes! I love the Vasari Society! I'm the president of Vasari and we're really trying to get more people more involved. We have a great group of officers and they're super, super excited about the future of Vasari too, so I know that when I graduate the club is going to be in amazing hands. Essentially, it's the art and art history society, so we want to be able to include everybody in the art department and the University who likes art, likes history or likes both. We hold different events every semester, and they're super casual. We try to go to all of the Art Crawls together and different local museums. We also hold movie nights. So, we try to keep it super casual and have different events that kind of foster a love for art history and foster a sense of community.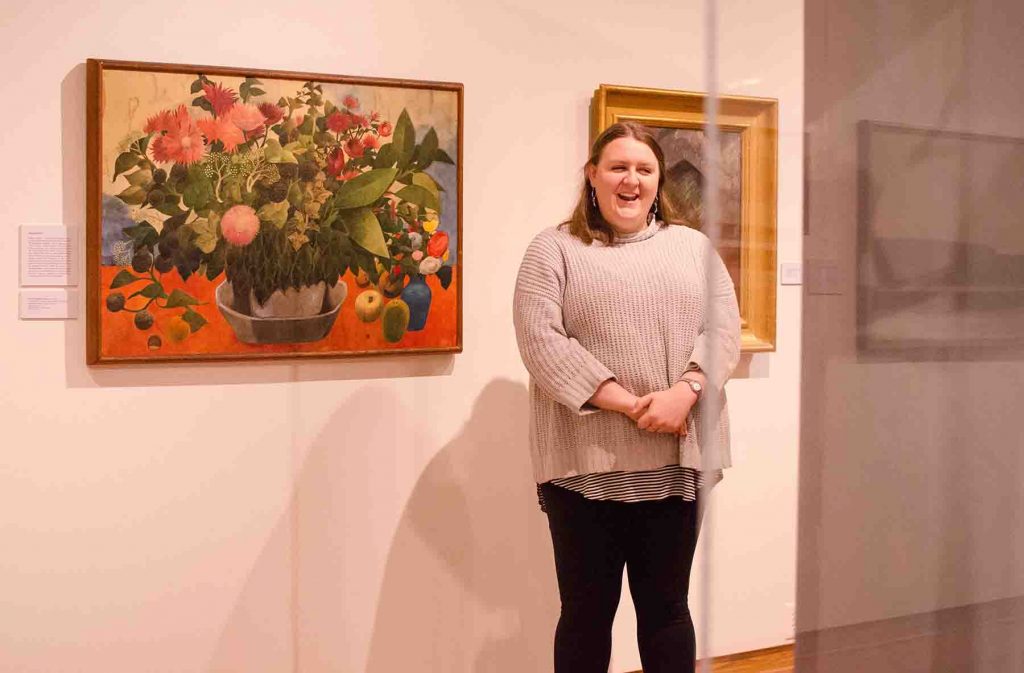 What's your favorite museum or gallery?
There are so many that I haven't been to. Can I say the University of Mississippi Museum? There are so many museums that I haven't been to. I've never been to Europe, and Europe is the hub of Western Art History. I've never been to any of the places I study outside of the United States. I've never studied abroad, so I feel like I haven't seen enough to make a real judgment on what my favorite museum is right now. But I do always try and keep a record of where I've gone. I have a collection of exhibition and museum brochures with the date I visited written on them. I did really love the National Museum of Women in the Arts in D.C. It's really nice, and there's actually some artists there who we have in our museum and who are actually from Mississippi. So that was fun to see. We have a Valerie Jaudon hanging in the Speaker's Gallery right now, and she has a piece in the NMWA. I said, "Oh! I know that name. I know her!" So that was really cool. Also being big, pro-women in the arts, I loved that there was a space dedicated entirely to promoting that.
Could you describe any good experiences here in the department?
My favorite class that I've probably taken here –though I loved all of them– was Dr. Arrizoli's 19th-century European art history class. I love all art, but the art produced between 1850 and 1950? That's my sweet spot if you will. We started at Baroque and Rococo art and ended with Post-Impressionism and the end of the 20th century. I really liked that class, and it helped me realize that I want to focus on Modernism, which is still a big, huge timespan, but it's not Prehistory to Contemporary, so I guess I narrowed it down a little.
What are your plans after graduation?
Great question! I've decided to take a year or a couple of years off from school. Originally my plan was to "get my Ph.D. by the time I'm thirty!" But after four years, I was like "Okay. I need a break." So, I'm looking and applying for jobs right now. Hopefully and ideally in a museum field. That would be best, so I can get more experience before I go to grad school. But beyond that, I will be going to grad school for my Master's in Art History.
Any advice for incoming art historians?
If possible and if you have time, try and do internships. If you have the time for a semester, try and do them in the spring. Everybody can do a summer internship, but in the spring they still need people. Also, be flexible. I had my ten-year plan and was following it, but I realized just this year that to be the happiest me I needed to be flexible. I don't have to go immediately to grad school, and I'm not. I'm taking some time for myself. I think that's important for college students in general; the path doesn't have to be superlinear. I never imagined myself leaving for a semester, but it was truly one of the best things I ever did. It completely reframed what I wanted to do for the near future. So be open to opportunities that you may not have even known you wanted; I think that's the best piece of advice that I can give.
Can we follow you on social media at all?
Yeah! I just rejuvenated my Instagram, @grace.moorman. It's mostly my dog, but she's cute! But, yeah, follow me. Hit me up.

Is there anything you are listening to at the moment? Music? Podcasts?
I'm not a podcast girl. I've never been. But I love music. When Spotify released its annual Unwrapped at the end of the year, and I saw my results, I was literally like, "Oh yeah. I remember listening to that one album for six months!" That's pretty much how my music taste goes. Top, forever favorite is the band First Aid Kit. But beyond that, I am listening to a lot of Houndmouth, Dry the River, and Mt. Joy. Also, Spotify's Deep Focus playlist got me through writing my thesis.
Are you watching at the moment?
I am re-watching the New Girl for the 4th time. I love the New Girl. Nick Miller is my ideal man, haha! I'm not really watching anything new right now.
Favorite Oxford hangout spot?
The dog park. I'm literally at the dog park as much as I can with my dog. She loves it; I love it. It's an immediate serotonin boost for me. Plus, all of the regulars know each other, and we get to chat while our "children" are off playing. But if I'm hanging out with people, I really love the Blind Pig. Or I'm also just at home. I love home. But other than being at the dog park or my house, I am at the University Museum. Catch me here five out of seven days of the week.
Your Favorite go-to restaurant here in Oxford?
Can I say Cookout? Haha! I love Cookout. But I also love Proud Larry's. I will go on record and say they have the best salads.
Favorite time of year here in Oxford?
I love Oxford when it's not super chaotic or busy. Fall weekends are not my favorite, but other than that I really like Oxford, especially its size.
Has anything crazy happened during your years as an undergrad?
First thing: 2016 Presidential Election. There is so much though. Meghan and Harry got married, and then basically abdicated the throne. That was wild. I got a dog. Her name is Georgia, and I feel like she is going to be featured a lot in this. She's a Mastador, so half Mastiff and half Labrador. She weighs 85 pounds, and she's a Pisces. She's super dramatic, but I love her so much. She turns two in April.
---
Interviewer: Frank Estrada | Photographer: Olivia Whittington