Art History: Beyond the Classroom
College is more than what's learned in the traditional classroom. You can engage with the activities of the Vasari Society, research the collections in the UM Museum, and intern with a relevant art history site.
Vasari Society
Student clubs are an integral part of the learning process and connect students with each other and to our art history community.
The student organization for art history, the Vasari Society, is named for the "grandfather" of art history, Giorgio Vasari (1511-1574), who was famous for his biographies of Italian Renaissance artists. Membership in open to any student on campus.
They sponsor movie nights, travel together to view exhibitions in town and beyond, and bring a wide variety of guest speakers to campus – from academics to alumni to museum/gallery staff. Students have the opportunity to meet informally with these professionals. A special treat was the recent opportunity to meet the former Director of the Versailles Museums in Paris. For information, contact Vasari faculty advisor Professor Wicker.
Check out their Instagram posts
---
Art Talks
In addition to the professionals who visit campus through the Vasari Society, the department sponsors Art Talks, a visiting art and art historian program. By creating access to artists and art historians in person or via webcam, students and faculty keep pace with trends in the field, contemporary artistic practice, and emerging technology used in cultural production today.
The list of visitors working in the field of art history – through the Vasari Society or Art Talks – is long and illustrious. A short sample includes:
Jock Reynolds, recently retired Henry J. Heinz II Director of the Yale University Art Gallery to discuss creation of a new Museum Studies minor.
Pierre Arizzoli-Clémental, General Director of the Palace, Museum and National Estate of Versailles (1997–2009) and father of UM art historian, Dr. Louise Arizzoli.
Sherry Lindquist, Associate Professor of Art and Design, Western Illinois University. "Sex, Gender, and the Ethereal Body in Medieval Art".
Genevieve Hill-Thomas, Liberal Arts Faculty, Ringling College of Art and Design, St. Petersburg FL. "Faso Dan Fani: The Language of Marka Textiles in Burkina Faso".
Douglas Lewis, Curator Emeritus of Sculpture and Decorative Arts, National Gallery, Washington, D.C.
Emily Burns, "Rosa Bonheur and the Transnational Identity Politics of the American West in France."
---

UM Museum

Four of the last five years our museum has been named to EDsmart's list of "51 Most Astounding University Museums," with a recent ranking of 17—one spot ahead of Princeton University. Many art history students intern or volunteer with the UM Museum where they might work with art education programs or curate an exhibit.
In the museum, you can study the David M. Robinson Collection of Greek and Roman Antiquities, one of the finest collections in the United States. Covering the 1000-year period from 800 B.C. to around A.D. 300, the collection contains Greek and Roman sculpture, Greek decorated pottery, inscriptions, architectural fragments, inscribed Sumerian clay tablets, small artifacts in terracotta and bronze, Roman copies of Greek art works, ancient surgical instruments, and Greek and Roman coins.
---
Internships
Students and faculty work together to identify relevant internships, both on campus at the UM Museum and off-campus at a variety of sites. The UM Office of Outreach's formal Internship Experience program also assists students with internship placements in Atlanta, New York City, and Washington D.C.
Internships provide valuable work experience, professional networks, further application of art history skills, and a stronger resume.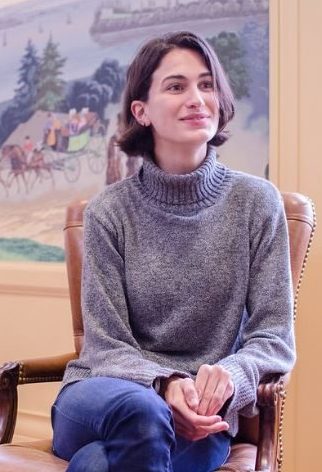 Maddie McHugh (BA in Art History, minor in Spanish '20) interned at YaloRUN Textiles in Water Valley, MS, and worked at Southside Gallery in Oxford.
"I really liked working more on the gallery side of art rather than museum work. It's more personal, you really get to meet with the community and the artist. You get to learn why they make art, what they are doing, how it affects the community, and how they influence other people."
---
Study Abroad
Art history majors have exciting opportunities to experience the art and architecture abroad. They can arrange their own study abroad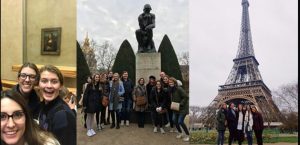 experience through the Office of Study Abroad. Or, they can travel with UM faculty.
One possibility is the formal course titled Art on Location, where UM faculty can take a course of students to different locations around the US and abroad. For example, in the 2-week Winter Intersession in January 2019, art historian Dr. Louise Arrizoli teamed up with a French professor to offer a study of art in Paris, France.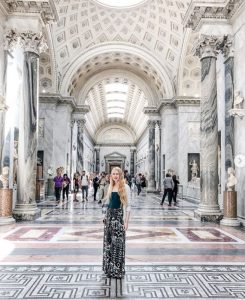 Rowan Murray (BA in Art History, minor in Classics '20) participated in Dr. DiBiasie-Sammons's study abroad course CLC/AH 326: Eternal Cities: A Study Tour of Rome and the Bay of Naples.
"During my time abroad, I studied ancient Roman art, architecture, and culture by visiting various sites and ruins in Rome and across the Bay of Naples, including Pompeii, Herculaneum, Boscoreale, and Stabiae. I also conducted research and gave on-site presentations for ancient monuments such as the Pantheon and Villa Regina in Boscoreale.
"I highly recommend a May or Winter session study abroad because they are a great introduction to traveling and studying internationally. It was definitely the highlight of my time here at Ole Miss thus far!" – Rowan Murray"