Introduce yourself. What is your name and where are you from?
My name is Maddie McHugh, I will be graduating in May 2020 with a degree in art history. I am from Cornelius, NC which is about thirty minutes north of Charlotte.
What attracted you to the University of Mississippi Department of Art & Art History?
It was a couple of things! One was I got a full scholarship to run track & field and cross country for the university, so that helped. And then when I came for a visit, I fell in love with the campus, the facilities, and the art department and how many options there could be in case I wanted to change my mind.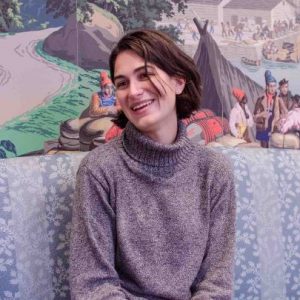 What made you choose to study art history? Was it your first choice?
No, it wasn't! My first choice was elementary education. I switched over to art history when I took AH 101 with professor Arizzoli and I fell in love with the idea of art history and I got hooked. So, I switched my major immediately and now I'm fully committed to the art department!
What minor are you studying?
I have a minor in Spanish. I chose Spanish because my mom is a Spanish professor at Syracuse University. So, Spanish was always a big part of growing up and the culture and I wanted to continue studying that.
What artists or type of art inspires you?
I love Spanish Modern Art and pretty much anything from 1920 up until now with Contemporary Art. It really inspires me, because it's a combination of both things I love. I love Spanish culture and I love art. So, it's really interesting to see how an artist with both those backgrounds depicts their feelings, their emotions, and what is going on in their life.
Is there a certain piece of art or architecture that inspires you?
Right now, I am studying Antonio Gaudi's La Sagrada Familia and just love how he is inspired by nature and he just loves Barcelona and just wants to influence Barcelona with art and nature and curvilinear lines.
Did you take advantage of any study abroad?
Unfortunately, I did not. I cannot study abroad because of athletics but I would if I could. Hundred percent, I love traveling.
Which professors mentored/inspired you the most?
Dr. Kris Belden-Adams has been my advisor and she is currently working with me on writing a thesis paper on La Sagrada Familia. So, she's been a huge inspiration to studying art history and pursuing career goals and what I want to do with myself post-graduation.
You mentioned athletics, does that interfere with your studies?
Yeah, it does, a lot! Haha! With athletics I'm practicing about 12 to 20 hours a week, twice a day, every day, and I travel every weekend to competitions because I'm a three-season athlete. So, it's not like I have a semester off, I'm constantly traveling and pursuing that. It's hard because I love both. I love art and I love running. What I love about the art department is that they have been really understanding about my athletic career. They are willing to work with me and be flexible.
Are you active with the Vasari Society?
I am not. I decided to pursue Mud Daubers and I've been pursuing ceramics for three years. This is my third semester in Advanced Ceramics.
So why did you choose to pursue ceramics and not any other areas?
When you're an art history major, you have to take art studio classes to understand what the artist goes through and I think that is a really cool part of the program. I took Beginning Ceramics instead of 3D Design and fell in love. I got sucked into the wormhole of ceramics and their sense of community. Everyone is really smart and willing to work with you and help you get better, not only as a ceramicist but as a person in general.
Did you take up any internships?
I actually did do a couple of internships. I did one at YaloRUN Textiles in Water Valley, MS with an artist named Coulter Fussell and she is a contemporary textile artist that recycles and reclaims old t-shirts, quilts, fabrics, and redesigns them into abstract art pieces to hang on the wall. So, I worked at her gallery for a while and helped her with organizing and setting up her quilts and interacting with people. Then for the second, I interned at Southside Gallery. I did a semester there and worked with the students during Plein Air. I worked with other artists and helped with exhibitions, receptions, and selling art.
That's great! I didn't know Southside had an internship.
Well, it was actually like a paid job, which was even better, haha! It was a ton of fun. I really liked working more on the gallery side of art rather than museum work. Only because I really liked interacting with the artist and not having to do research and archive. It's more personal, you really get to meet with the community and the artist. You get to learn why they make art, what they are doing, how it affects the community, and how they influence other people.
What's your favorite museum or gallery?
I love the Louvre which is really basic. I went there this past summer and it blew my mind. I could have spent two weeks there but I only spent three days there. Honestly, my favorite things about traveling with Athletics, I get to visit other university museums. So, I've been to countless places and one of my favorites is actually the University of Florida's. It not only features thesis students but they have a crazy collection from donors. They had early Monet paintings and some things I've never seen before. While I was there, they had an exhibition of the Guerrilla Girls. It was incredible. The Guerrilla Girls are a feminist, art activist group who believes that there should be more fairness within the art community not just white males should be making art and hung up in museums but they need to recognize females as well.
How has the Department of Art & Art History fostered your growth as an art historian?
The program does a really good job of having a diversity of classes for different emphases. There's going to be a teacher that can help you along the way. Not only with the help of art history and art in general, but we also go to other departments as well to foster that growth. For example, professor Ajootian in classics. If you wanted an emphasis on that, she could help with the art history side and the classics.
What are your plans after graduation?
I'm not certain but I am open to the idea of grad school. I'm kind of going to do a little bit of a gap year and get a break from school and running. I am hoping to get work experience. I'm hoping to apply to galleries or museums who are willing to hire me. I'm not picky!
Is there any advice you would like to give to incoming art history students?
Definitely take advantage of all the opportunities that we have at Ole Miss, whether it is Vasari or opening receptions. The faculty we have available are always willing to help. So as much effort you put into it, you are going to get the same effort back.
Can we find you on social media?
Yes, you can find me on Instagram, @maddiiemcq
What are you listening to right now?
I'm listening to a band called HAIM. It is a contemporary, female rock group.
Are you binge-watching anything at the moment?
I was binge-watching Schitt's Creek.
What is your favorite Oxford spot to hang out?
Bottletree Bakery or the Graduate. I go to Bottletree three times a week, it's pretty bad, haha.
What's your go-to restaurant in Oxford?
Rice & Spice. Yellow curry with tofu, spice level 2.
Has anything crazy happened during your years as an undergraduate student?
In ceramics, there is sometimes a malfunction or something crazy always happens. It gets even more hectic when there is a deadline for mid-terms and you have to fire your own pieces. I had one instance where nothing was going right, the bisque wasn't firing well and I had to load this kiln on-time and I was struggling to do that. I had a little panic attack and you're like "I can't get his done." But it all works out in the end.
To find out more about Maddie's career in athletics, check out her profiles in Cross Country and Track & Field.
---
Interviewer: Frank Estrada | Photographer: Olivia Whittington