Introduce yourself and tell us where you are from.
My name is Amy Webb and I'm from Meridian, MS. I have lived in various towns across Mississippi my entire life, and have been painting almost all this time too.
What attracted you to the Department of Art & Art History?
I had to remind myself of what I really wanted, otherwise I would have taken Dad's advice and become an accountant. I've always been making art and held a few jobs in art-related fields. It is the only thing I can see myself feeling fulfilled in so I came here.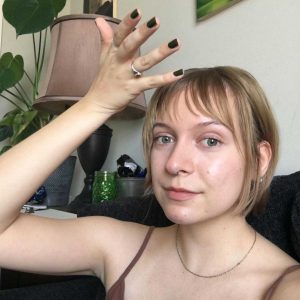 What type of artwork do you create?
I make oil paintings. Lately, my works focus on interior light as a subject.
Could you explain your process?
I often paint using a glazing method, where I paint in thin layers to establish depth over time.
Which artists do you look to for inspiration?
I am inspired by Hopper, Munsch, Ruphail, and Susan Abbott.
Which professors inspired you the most?
Jackson has been very encouraging and has helped me value art as a serious pursuit.
What has been your favorite class during your years here?
Definitely plein air, I loved painting outside in some nice spring weather.
Could you describe a favorite memory here in the department?
Blacksmithing for the first time gave me a new kind of confidence. I never thought I'd learn how to do something like that.
What does the Department of Art & Art History mean to you?
It's been an incredible resource. My time here has helped me reflect on how important my art is to me, and I feel like it's prepared me for the greater art world.
Do you have any advice for incoming art students?
Take your time if you can afford it. I'm glad I paced my classes out so that I could focus on my paintings throughout my time here and feel more prepared for the thesis semester. Though we're all eager to start our careers, it helped me to not be in a rush.
What type of music do you listen to while you create art?
All kinds depending on the mood, from Radiohead to Latin hip hop.
What are you binge-watching while being a couch potato?
I don't really watch TV much these days, too busy painting
Do you have any hobbies outside of the art department?
I worked on a farm during my time here, not technically a hobby but I was very passionate about it and would love to have my own small farm one day.
What is your favorite thing about Oxford or the University?
I've lived in a few different towns across MS, but I found a sense of community in Oxford like no other. I love being able to see a friendly, familiar face wherever I go around here.
What is your favorite restaurant in Oxford?
Tarasque, hands down. Quality seasonal ingredients, creative new menu items almost every week, it's all so delicious. The owners are incredibly kind and have helped support local arts organizations too!
Can we find you on social media?
I'm @a.webb_art on Instagram and @auntag0ny for my personal life.
Do you have any plans after graduation?
I plan to paint as much as possible, I'm going to rent a studio space in Water Valley with some friends and I'll be working on my second mural for the University in the RC South building.
---
"Grounding Environments" will be on display in Gallery 130 from March 28–April 1, 2022.
Q&A Interview conducted by Frank Estrada. Photos provided by artist.