View Adrian's full BFA Thesis Exhibition "Power in Solitude" on our new Gallery 130 website!
---
Introduce yourself and tell us where you are from.
Adrian Vinluan, I'm from Gulfport, MS
What attracted you to the Department of Art & Art History?
I always had an interest in drawing and art, I wanted to pursue something that I was genuinely passionate about. Once I took my first printmaking class I knew that I wanted to get a BFA in Printmaking.
When did you start getting into art?
I used to doodle a lot when I was in high school when I was supposed to be taking notes. I noticed that if I actually put some real effort into learning the proper techniques it could develop into something. I actually didn't take my first art class until I transferred to Ole Miss.
What type of artwork do you create and can you explain your process?
I like to make artwork that is heavily derived from nature. I gravitate towards the symbology and meaning behind animals and flowers. My favorite process to do is relief printmaking. I enjoy the process of carving a matrix because it forces me to make decisions that I wouldn't normally make if I were drawing. I also enjoy the process of making etchings.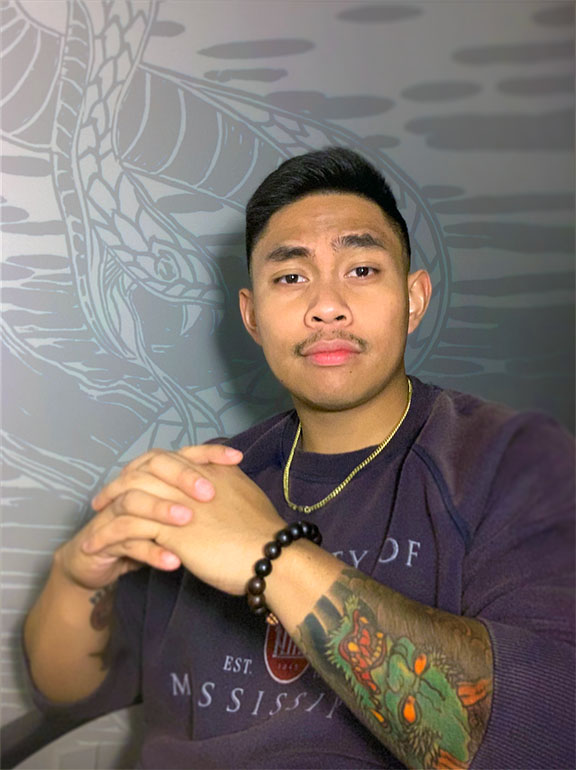 Has your artwork changed during the coronavirus?
I wouldn't say it has really changed but the circumstances of the coronavirus have inspired me to make art that speaks on the self-isolation that comes from quarantining.
What type of artist do you consider yourself?
I would consider myself a printmaker.
Which artists do you look to for inspiration?
I primarily look towards traditional Japanese Tattoo Artists like Mike Rubendall, Horitomo, and Horiyoshi III for inspiration. I'm really drawn to the graphic style of tattooing and try to bring that into my own carvings.
With exhibitions moving online, could you tell us about your BFA thesis?
Due to the circumstances of the Coronavirus, I was able to spend a lot of time by myself quarantining. I took this opportunity to really get comfortable with being alone and not relying on others. For my thesis, I wanted to relate the experience of being quarantined to animals who live primarily solitary lives. I depicted animals who live solitary lives in my work. I feel like there is power and resilience in living in solitude. I wanted to relate my experience of being quarantined to the animals that don't rely on others to survive.
What has been your favorite class during your years here?
Advanced printmaking has by far been my favorite class that I've taken. There are so many different techniques that you can do in advanced printmaking. I'm not tied down to one practice in this class and I'm able to pull in techniques from painting, graphic design, and letterpress and use them in printmaking. The variety of techniques and processes is what makes it my favorite.
Did you take an online, remote, or hybrid art class? Did it change your way of creating art or learning experience?
I took both an online class and a hybrid class. Taking a class like this is definitely different than a traditional studio class. I feel like so much of what makes a studio class useful is the face to face interactions with professors and students. It's the interactions that really push me to want to bring my art to the next level. Despite the circumstances, the online and hybrid classes were still fun.
no images were found
Which professors inspired you the most?
The professors that inspired me most were definitely
Philip Jackson
,
Tina Lutz
, and
Lauren Cardenas
.
Could you describe a favorite memory here in the department?
I think my favorite memories are the ones I made while monitoring the print studio at night.
What does the Department of Art & Art History mean to you?
The Department of Art & Art History represents a place where artists and art historians can push themselves to work on their craft. This place is different from any other department on campus. It is a place where creation and inspiration thrives.
Do you have any advice for incoming art students?
Take time to explore and find what really interests you. Really take time to learn the fundamentals. I see new artists come to the drawing classes here and try to experiment with concepts without mastering the basics. Everything fell into place for me when I finally learned the basics. Another piece of advice that I can give is to not be afraid to fail. Failure is a great teacher.
What are you looking forward to when things get back to normal?
I am looking forward to LIVE concerts and traveling abroad. One of my life goals is to travel to a new country every year.
How has the pandemic affected your life as an artist?
Life has pretty much been the same as far as my life as an artist. My life as an artist pretty much revolves around school. I still have ample time to work in the print studio.
Can we find you on social media?
Yes. My two Instagram handles are Adronie611 and Manlet_Art
Has social media helped you more during this time?
Not really. I'm not much of a social media person. I mostly use social media to look at memes.
What's your favorite thing about Oxford?
My favorite thing about Oxford is the arts community.
What type of music do you listen to while your creating art?
I listen to almost every genre of music when I create art. I have a studio playlist that consists of Rap, Thrash Metal, Pop, R&B, Indie, Rock, and Classic country. I think it's important to listen to a variety of different genres when creating. I think I'm most productive when listening to LoFi.
What's your favorite thing to watch while being a couch potato?
Anime!!!! I recently caught up on all 940+ episodes of One Piece. I also enjoy watching nature documentaries and foreign films.
Do you have any plans after graduation?
As soon as I graduate I will be working as a Tactical Data Link Analyst at a managing and technology consulting firm doing similar work that I do in the United States Air Force. I plan to get my MFA in printmaking after my next deployment in 2022.