Introduce yourself and tell us where you are from?
Hi there, Zach Fields here. I'm from Pontotoc, Mississippi but home was a bit out of town in Ecru.
What attracted you to the Department of Art & Art History?
Well, I'm a non-traditional student and had been living in Oxford for several years – so when I decided to go back to school and finish my degree Ole Miss was the natural choice.
When did you start getting into art?
Ok, so I kind of hate when artists make the "as a child" statement – because it can seem discouraging to others – it can imply that you can't work on a certain level if you didn't pick something up at a young enough age. But yeah, I was introduced to art very young and it was always sort of my thing.
What type of artwork do you create and can you explain your process?
The focus during my time in the Art Department has been on non-traditional applications of Mokuhanga, the traditional relief printing technique of Japan using water-based pigments. Material exploration and experimentation are integral aspects of my practice. I find the properties of media and the objects used to create the work have their own unique characters and every time I try something new, a material reveals a new facet of itself in the process. A studio-art practice creates this sacred space that fosters a sort-of relationship to media – you really get to know their personalities – for me that sensitivity to the material over time is what allows those intuitive aha moments of insight that can push the work into new, exciting territory.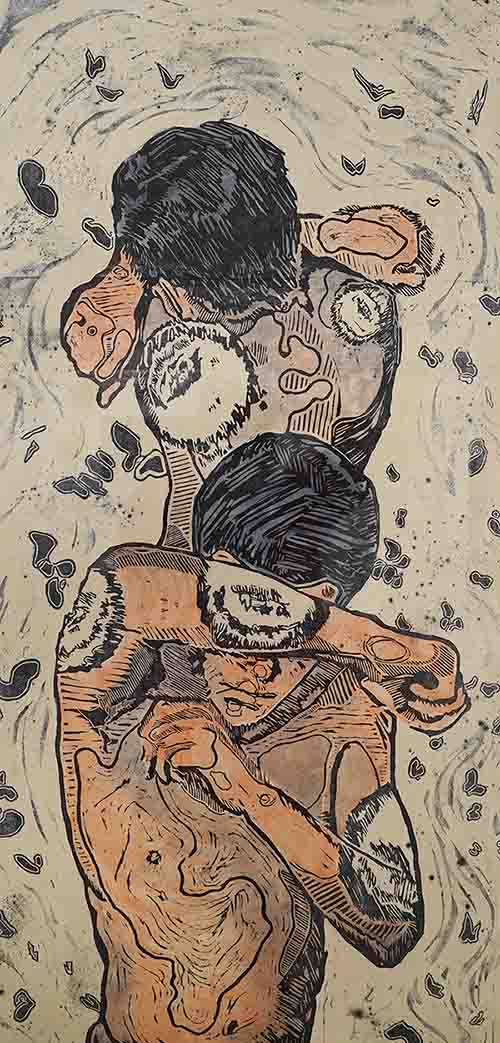 Has your artwork changed during the coronavirus?
Not really. One of the reasons I fell in love with this medium was because it's so low-tech and green, it's a pretty convenient way to work in print because it's doesn't require a heavy-duty press and volatile chemicals.
What type of artist do you consider yourself?
I suppose I'd consider myself a contemporary visual artist who works primarily in the medium of print.
I hesitate to call myself a process-based artist because it's not necessarily the dominant aspect of my work. Concept and subject are just as important to me as the process – to me they go hand in hand – sometimes one takes the lead and sometimes the other – I like to allow room for that dialogue in my practice between process and concept – for me that flexibility yields better results. If I worry too much about labels it tends to stifle flow – the hesitation of "but I'm a ______ artist, I can't do that…" can really stifle the evolution of an artist.
Which artists do you look to for inspiration?
Currently, I don't really look to artists so much for the inspiration. I find most of my inspiration comes from observations of nature and the of the self. What's really inspiring to me is recognizing parallels between the natural world and human experiences.
But I definitely have my artistic influences, artists that have shaped the way I see – during those really malleable childhood years that form a kind of subconscious scaffolding that will undergird everything I do. Those kinds of influences stay with you – regardless of whether you recognize their origins or not. For me, those foundational voices come from painter and printmaker Yoshitaka Amano and the works produced for western audiences by the Topcraft studio in the late '70s and early '80s.
I have been influenced by other artists along the way in my artistic journey – like illustrator Julie Verhoven while studying fashion design and of course, as a Mississippian, growing up with the work of Jim Henson and Walter Anderson. Though it wasn't until I was accepted into the BFA program that I really understood the mechanics of how these individuals contributed to how I see and shaped the hand in my work.
With exhibitions moving online, could you tell us about your BFA thesis?
Sure. For my thesis, I'm producing a series of multi-process prints that examine the relationship between place and form. I'm exploring how environments impact and shape the body and in turn how the body shapes our subjective experiences/perceptions of the world by comparing elements of moth and butterfly biology as metaphors for human experience.
What has been your favorite class during your years here?
Probably Pleinair painting with Phillip Jackson. It was offered during an intercession so as a studio course translated to painting boot camp – sun up to sun down devoted to nothing but painting and thinking about painting. Even in the Mississippi heat being able to really observe edge relationships within the landscape was a total immersion in understanding color, it was one of the most exhausting and rewarding classes I've had here at Ole Miss.
Did you take an online, remote, or hybrid art class? Did it change your way of creating art or learning experience?
Most of my classes have been pre-covid, but I can't brag enough about the effort put forth by the faculty and staff in the studio courses I did take in the areas of Ceramics and Printmaking. Both went to great lengths to make sure we had enough studio time and access to equipment to produce good work, I can't speak to other areas but in my experience, they really stepped up during the pandemic.
Which professors inspired you the most?
My big three have to Tina Lutz, Ginny Chavez, and Lauren Cardenas. Each of them has pushed me and my work into places I would never have imagined and am thrilled to be. I really can't express the level of gratitude I have for each of them.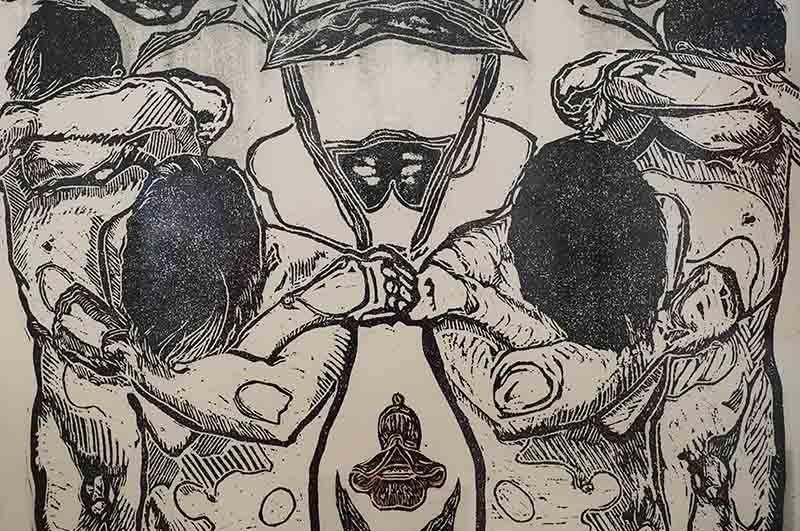 Could you describe a favorite memory here in the department?
I think the highlight of my time here has to be the spring break printmaking workshop, Mokuhanga in Mississippi hosted by Tina Lutz. She introduced us to the rather obscure print process and I absolutely fell in love with it. So much artistically just clicked for me then and it really is among one the best experiences I've ever had.
What does the Department of Art & Art History mean to you?
We are small but mighty. I don't think I could have ever gotten so much attention dedicated to my growth from a bigger department. It has it quirks but was in so many ways a homecoming.
Do you have any advice for incoming art students?
Take it all with a grain of salt, and remember that there really is no wrong answer – everything is valid, and everything is art, and that art is not a competitive sport. The biggest hurdle is the specific vocabulary of art – understand the lingo and your free. You are here to develop as an artist, art foundation core classes are the legs you'll stand on – take them seriously – after that make what you need to make to find your voice – try and look past the prompts and the value judgment inherent in grades – and take the time to grow – studio access is precious, maximize it. Cold read please – always.
What are you looking forward to when things get back to normal?
Clear skin and Graduate school.
How has the pandemic affected your life as an artist?
It has really made me appreciate how important the critique is. It's one of the most important elements of an art education – getting to see through other people's eyes is essential – I hope we can all value that interpersonal aspect even more going forward.
Can we find you on social media?
Sure. My Instagram handle is @zachmfields.
Has social media helped you more during this time?
Not too much more than usual.
What's your favorite thing about Oxford?
Good landscaping, the Ole Miss campus is one of the botanical gems of the state. You can really see that value reflected in public and private spaces all over town.
What type of music do you listen to while your creating art?
Mostly electronic music, like Odessa, Utah, Pines, as a kind of audio caffeine meets metronome – but I also listen to a lot of audiobooks and podcasts while I work.
What's your favorite thing to watch while being a couch potato?
The Great British Bake Off
Do you have any plans after graduation?
I hope to be able to set up a small personal studio space somewhere and look into graduate programs in pursuit of an MFA in print.