The Factory, Vol. 1
March 27-31st, 2023
Closing Reception
When: Thursday, March 30rd, 2023, 4:30–6:00 PM
Where: Gallery 130, Meek Hall
---
Introduce yourself and tell us where you are from.
Hi, my name is Savanna Martin and I'm from Baldwyn, MS.
What attracted you to the Department of Art & Art History?
Something that attracted me to the department of Art & Art History is the variety of classes that I could take within and outside of my Graphic Design major.
What type of artwork do you create and can you discuss your process?
The work that I create in Graphic design tends to be brighter colored with a mixture of organic and geometric shapes. When it comes to type I lean more toward San serif fonts because it looks more appropriate with how I design.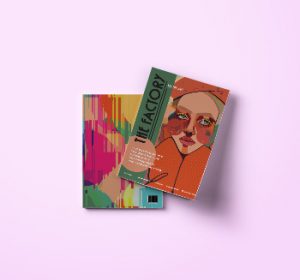 Which artists do you look to for inspiration?
Andy Warhol is one of my favorite artists. I am inspired by his work in the way of my color palette and the pop art-based work that I make.
Which professors inspired you the most?
I would say that Tyler Barnes and Brooke White have inspired me the most because they both have taken the time to explain why portions of my work should change, how to help me progress and step out of my comfort zone and have given me help in the areas of the classes I have taken through them. Tyler being a graphic design professor inspires me in the way he is able to create the work that he does outside of the classroom and Brooke inspires me in the way of her career outside of the classroom and just who she is as a person.
What has been your favorite class during your years here?
My favorite class so far has been either production design or typography.
Do you have any advice for incoming art students?
My biggest piece of advice would be to really stay focused on your projects, learn time management, and keep up to date with what's going on in the art world of your study.
Do you have any hobbies outside of the art department?
I do paint classes on the weekends.
What is your favorite thing about Oxford or the University?
My favorite thing about Oxford is just how the town in general really flourishes with art and my favorite thing about the University is the inclusion and acceptance that it offers for its students.
Can we find you on social media?
My Instagram is @savmartin.designs and my thesis Instagram is @thefactory.mag
Do you have any plans after graduation?
I plan on moving to Nashville after graduation and hopefully working within editorial design.