Richy Reaper
March 27-31st, 2023
Closing Reception
When: Thursday, March 30rd, 2023, 4:30–6:00 PM
Where: Gallery 130, Meek Hall
---
Introduce yourself and tell us where you are from.
Hello, my name is John Douglas. I'm from (sunny) Boynton Beach, Florida
What attracted you to the Department of Art & Art History?
I wanted to create and design ever since I was little. However, I didn't realize that specifically Graphic Design was the way to create.
What type of artwork do you create?
My types of artworks are specifically more aimed at cartoons.
Could you explain your process?
Cartoons play an important part of my life and a lot of my work is either inspired by cartoons or originally created by me.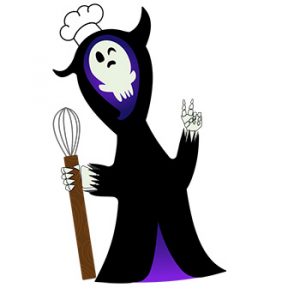 Which artists do you look to for inspiration?
A lot of inspiration came from my childhood shows growing up. I was primarily a Cartoon Network kid watching shows such as: Craig McCracken's Foster's Home for Imaginary Friends, Maxwell Atoms' The Grim Adventures of Billy and Mandy, and Mr. Warburton's Codename Kids Next Door.
Which professors inspired you the most?
I would say 3: Brooke Alexander, Josh Brinlee, and Tyler Barnes. I was very hesitant taking Brooke's Figure Drawing class; however, it turned out to be one of the more entertaining classes I took, she was so encouraging and always helped us out when we needed help on drawing a specific area. I took Josh's Color Theory Class on zoom but needless to say, it was so much fun learning about different colors and color groups. It was fun to know that he remembers the cartoons I watched and how I incorporated them into my work. Tyler has always helped push me to think either more outside the box or within the box if I maybe went too overboard. Ever since starting, he's helped me be the designer I am today.
What has been your favorite class during your years here?
Figure Drawing. I never knew what this class was about at the beginning, but after taking both of them I found out there are so many different ways to draw a nude figure. Thanks to Brooke for helping me out!
Could you describe a favorite memory here in the department?
Probably, beginning sculpture. It was a very challenging class, but the people that were there made it worth coming. We all had so many funny conversations and that helped make the class a little more entertaining.
Do you have any advice for incoming art students?
Take studio classes that you want to take, DO NOT take more than 4 studio classes per semester (it is not worth it)., definitely have some hobbies outside the classroom so you can still have fun in college 🙂
Do you have any hobbies outside of the art department?
I'm involved in the Theatre department here at Ole Miss and this past year I was on the Board of Directors for RebelTHON!!
What is your favorite thing about Oxford or the University?
Coming from South Florida, every year I always loved the changing of the seasons. I never had that back home and seeing that happen every time I come to Ole Miss has been nothing short of MAGICAL!!
Can we find you on social media?
Yes! My Instagram is @johnny.g.dougs
Do you have any plans after graduation?
I'm currently applying to graduate schools for an MFA in Animation and I'm looking for jobs in Florida.