Revival
March 20-24th, 2023
Closing Reception
When: Thursday, March 23rd, 2023, 4:30–6:00 PM
Where: Gallery 130, Meek Hall
---
Introduce yourself and tell us where you are from.
My name is Alexa Tamburlin and I'm originally from Buffalo, NY.
What attracted you to the Department of Art & Art History?
Growing up I've always loved illustration and painting, and I was fortunate to have a grandfather very talented in both those areas. After taking graphic design senior year of high school, I realized it was the perfect career path for me. I always had my eye on Ole Miss since Middle School because of the feature twirler program. So after committing to the school, it was a win-win that I could be a member of the BFA Program as well as an Ole Miss Feature Twirler.
What type of artwork do you create?
As a graphic designer, some of my favorite things to create are logos and branding.
Could you explain your process?
I love bringing my clients visions to life and being able to add an element of my personal style in there as well.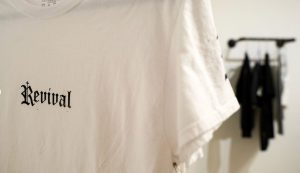 Which artists do you look to for inspiration?
For a while now, I've been looking at Nicole Weber. She is a young designer who took her personal freelance business full-time. She consistently posts what she's working on, and it's been truly inspiring to see her business grow how I hope mine will too.
Which professors inspired you the most?
Within the Art Department, Professor Barnes has inspired and helped me the most. He has always pushed me to take my designs further and provided lots of guidance. Outside of the department, Ole Miss Band Director, Randy Dale. Mr. Dale has always believed in me with literally everything in life. He frequently reminds me that I have what it takes and every time we talk never fails to make me laugh. He is one of the parts of Ole Miss that I will miss the most.
What has been your favorite class during your years here?
I have many favorite design classes I took throughout my time here, but I'd have to say my favorite was Advanced Graphic Design. In this course, we created our professional portfolios and finalized our personal branding as graphic designers. I felt this class prepared me for what's to come after I graduate.
Could you describe a favorite memory here in the department?
Some of my favorite memories would probably be in the ceramic studio. Because this class requires time in studio hours, my classmates and I were in there together quite frequently for hours on end. Although we were working to get our projects done, we had lots of laughs and stories to tell.
Do you have any advice for incoming art students?
Stay proud of being an artist. It's easy to feel discouraged with the stigma around art as a career path, but I promise you'll be much happier doing what you're doing than the person who tells you otherwise.
Do you have any hobbies outside of the art department?
As I mentioned previously, I'm an Ole Miss Feature Twirler and have been a baton twirler my entire life. When I'm not in the studio designing, I'm in the gym training for my fifth World Championships this August in Liverpool, England.
What is your favorite thing about Oxford or the University?
My favorite thing about Ole Miss would have to be the community. Because the university is the third smallest SEC school, I've loved getting the best of both worlds of a crazy game day all while consistently seeing familiar faces on and off campus.
Can we find you on social media?
Website: alexatamburlin.design Instagram: @alexatamburlin.design
Do you have any plans after graduation?
Ideally, I want to take my freelance design business full-time and become my own boss. Until it takes off comfortably enough to become full-time, I plan on moving back to Buffalo, NY and working a design job there.