Introduce yourself and tell us where you are fromz?
I'm Nakiyah Jordan from Soso, MS.
What attracted you to the Department of Art & Art History?
I've drawn for as long as I can remember so when I made the switch to the art department a month into my freshman year, Meek Hall was it.
When did you start getting into art?
I doodled flowers with my aunt and silly faces with my dad at three. Loved making things ever since.
What type of artwork do you create and can you explain your process?
I paint in oil and on wood panels. I use an indirect process where there is an underpainting, but it's evolved into leaving parts of the initial sketch untouched.
Has your artwork changed during the coronavirus?
It began right before March 2020 and being home definitely affected the work. I painted all through that summer. It was different to be at home and so close to the subject. It was as helpful as it was disorienting.
What type of artist do you consider yourself?
Messy, haha. I'm really interested in installations. I write as well as paint and blending those with other mediums really excites me. I don't wish to be known as strictly a painter, but rather an interdisciplinary artist and poet.
Which artists do you look to for inspiration?
Kehinde Wiley, Mickalene Thomas, Ernie Barnes, Kadir Nelson, Deanna Lawson, Laytoya Ruby Fraizer, Lee Williams, Cheryl Dunye, The Canton Spirituals, Hasan Green, Randal Nunn, and my grandma. Not all those folks are painters, they aren't even all visual artists. Some are my favorite gospel singers. They are all brilliant Black thinkers.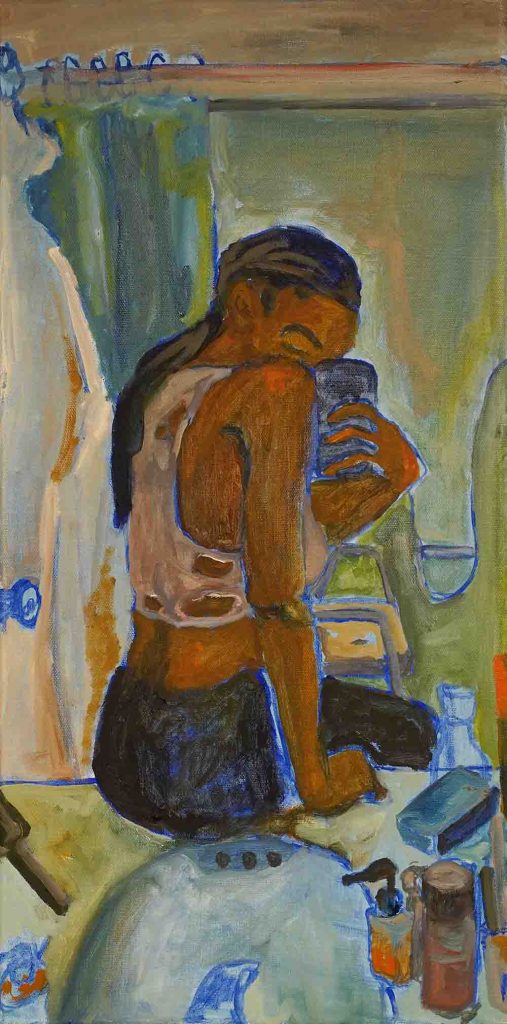 With exhibitions moving online, could you tell us about your BFA thesis?
The project entitled, "Of a Mustard Seed: The Portraits of 'Church-Going Black Folks in the Rural South," explores the conditions of homes of my rural, Southern, Black, and Christian family both literally and metaphorically. I began with seeking to find decor and other visual expressions of personhood such as photo albums and church fans in my family's home and place of worship. You'll find references to Black Church culture and to impoverished areas in the South while getting the chance to spend time with the images of my family. I think the longer you look, the more you'll find about the nuances and implicit biases of both yourself and me and my folks.
What has been your favorite class during your years here?
Ooooh, that's hard. I've had lots of fun with different classes. I think I'd have to say that my favorite was actually a special topics art history course: "Gender in Contemporary Art" with Dr. Belden-Adams. I truly love discussion and Dr. Kris is so wonderful at facilitating conversation There was plenty to discuss from ethics to language to the mark of the artist, and the viewer.
Did you take an online, remote, or hybrid art class? Did it change your way of creating art or learning experience?
Yes, I've taken a few and it was an interesting switch. Things were a real struggle that first semester when we had to switch over with no real time to plan. It's difficult to make your porch out in the country with poor wifi, an office, or a studio, but I think that there was also something really special about what that time did for my work.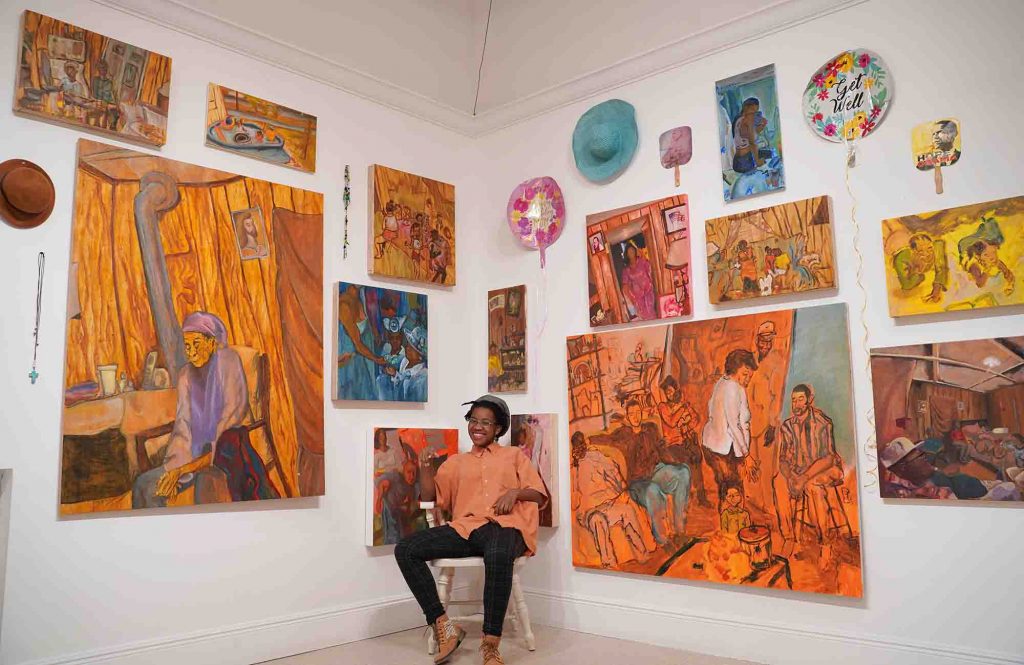 Which professors inspired you the most?
Ohhh, don't make me pick!
Could you describe a favorite memory here in the department?
Anytime I get to stroll into Brooke Alexander's studio to chat. Always thoughtful conversation.
What does the Department of Art & Art History mean to you?
It means privileged making. We are creating in these academic spaces that are still gatekept from folks. We have to recognize that and make the arts more accessible.
Do you have any advice for incoming art students?
My advice would be to write ideas out on paper. Always take notes. For me, it's helped so much with sorting my own thoughts and getting at what I really want to talk about.
What are you looking forward to when things get back to normal?
Huggin' my folks' necks.
How has the pandemic affected your life as an artist?
It's forced me to work in tiny spaces and under loads of stress. However, I would say that the public discussion of race in America, which in many ways was due to the pandemic – these things have been happening for years, but this time around white folks listened – has affected me far more.
Can we find you on social media?
You sure can! @nakiyahtianna.art on Instagram and Nakiyah Tianna on Facebook.
What's your favorite thing about Oxford?
The folks I've met and that now empty spot in the circle.
What type of music do you listen to while you're creating art?
It usually depends on my mood but I switch back and forth between gospel, neo soul, funk, and good ole Motown Records.
What's your favorite thing to watch while being a couch potato?
Star Trek. Original Series & The Next Generation.
Do you have any plans after graduation?
I'll be pursuing a Writing MFA at the School of the Art Institute of Chicago! I've been awarded the New Artists Society Scholarship that will cover full tuition. As my grandma would say, "Ain't nothing but God."