Introduce yourself and let us know where you're from.
My name is Audrey Macia and I am a BFA student with an emphasis in graphic design. I am from Raleigh, NC. I have lived there for the majority of my life, but I was born in San Antonio, TX.
What made you come to the University of Mississippi?
It started with my older cousin. He went to school here and it opened my family's eyes to a university we weren't familiar with. Then my older brother decided to go to school here. So, I thought why not check it out, too? I got to visit a little bit while he was here (when he first started school here), and it was a beautiful campus and just everything I wanted in a college.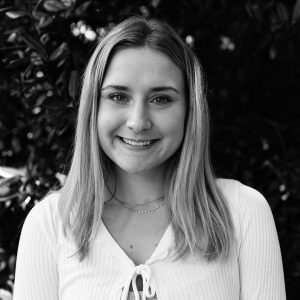 Did you know you wanted to come here for art?
I was undecided at first, and then my parents actually pushed me towards the art program. They understood that I had a more creative side and he thought I would thrive doing graphic design. They knew Ole Miss had a pretty good graphic design program and wanted me to try it out.
How would you describe yourself as a graphic designer?
I'm kind of versatile. I don't like to put myself into one category. But in my free time, I like doing fun and trendy illustrations, and I'm easily swayed towards things I find cute.
Who do you look to for inspiration?
I'm following Lincoln Design Co. They are very renowned in the graphic design world and I constantly keep up with what they do on Instagram. They work with a lot of well-known brands. I also follow graphic designer, Tyler Pate, for illustration inspiration, too.
What was your favorite class here?
I've had so many good classes and I think that's unique to the average college experience. But design-wise, I think one of my favorite classes has been the packaging class that I'm in currently. I like having the creative freedom to design my own product packaging based on a brand that I've created altogether from scratch. It's fun!
Any other classes outside of the department?
I loved my writing classes. In the future, I hope to get a design job that works with both my design skills and writing skills.
This past year has been crazy. Were there any disadvantages to going remote?
You know, I was lucky. I was fortunate enough to still have some studio classes that were on campus which allowed me to escape my apartment every other day. But I missed being there all the time and being involved, not just someone on a computer screen. I felt like there was so much disconnect. It definitely took a toll on the social aspect of my life and I missed seeing my art friends.
What do you plan on doing for your thesis?
I am creating a wakeboard company called Bluside Wake. I am designing two wakeboard wraps and creating a poster series that highlights the brand's mascots. The two mascots I created are named Posy and Raise Rays. The goal of Bluside Wake is to use fun and playful designs to persuade young women to try out wakeboarding.
Which professors inspired you the most?
Tyler Barnes and Ginny Chavis. Before I started college, I had no idea what graphic design was or how to use any of the programs. I remember getting into my first design class and being so intrigued with Adobe Illustrator that I went home and practiced on my own to get the hang of it. But with their guidance, going through these graphic design courses was a blast. I was able to learn about creating vector illustrations, the importance of typography, and how to become a great professional graphic designer.
Do you have any advice for incoming art students?
Try everything. Some classes may sound scary or challenging but just try it because you might find a new passion or skill. You can always tie that those new skills into whatever area you end up choosing.
What's your favorite thing about Oxford?
One thing I really like about Oxford is that it's an active community and there's always something fun to do. Hitting the square, celebrating in the Grove on game days, and walking at Lamar Park are some of my favorite things to do around Oxford.
What type of music do you listen to when creating art?
I listen to K-Pop. I got into it freshman year of college and I've been hooked since. The first group I ever got into was BTS but I highly recommend checking out Day6, they are a band that consistently makes music that inspires me and helps me stay focused while studying.
Are you watching anything at the moment?
I binge-watched the iconic, Squid Games the other day. It was emotionally taxing. But, right now I'm going back and revisiting Gilmore Girls.
Can we find you on social media?
Yes, you can find me on Instagram @audreymacia.art.