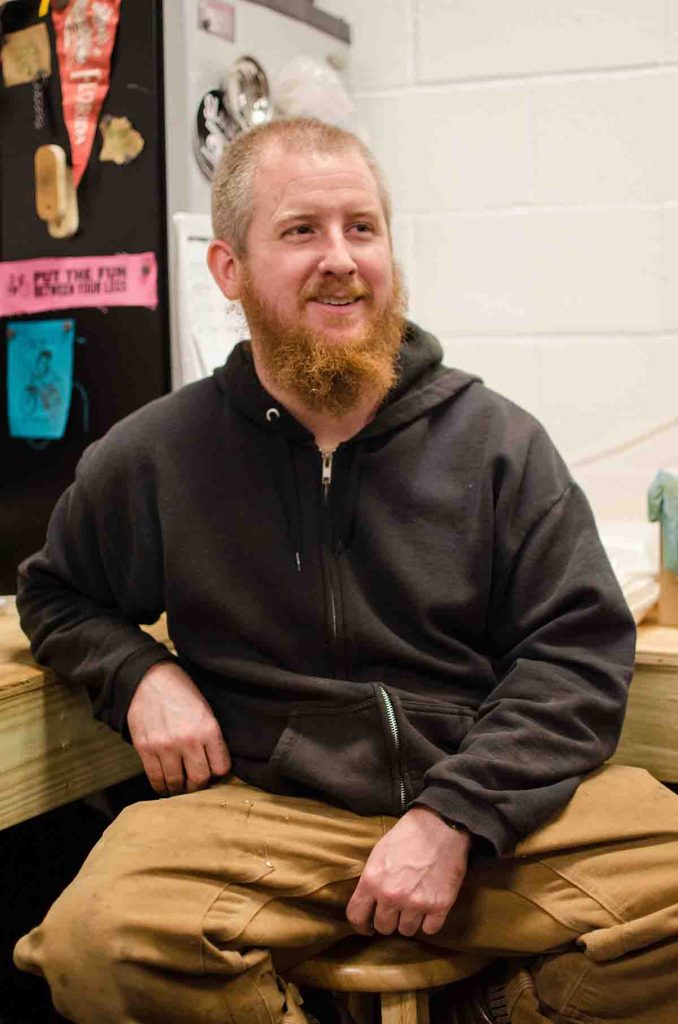 Introduce yourself. What is your name and where are you from?
My name is Ian Skinner, and I'm a third-year sculpture grad here at the University of Mississippi. I'm originally from Jacksonville, FL.
What attracted you to the University of Mississippi Department of Art & Art History?
I knew Durant Thompson through the iron casting community and the Yokna sculpture park. I actually got a piece accepted into the Yokna Sculpture Trail before I even thought about grad school. I had just transferred into the University of North Florida where I received my BFA and made a large piece there. I submitted it to the trail four years before applying here and had it installed in the park.

What made you pick sculpture as your concentration?
I started in high school as an AP ceramics student and honors photography because I'm really dyslexic, but I grew up fixing things and working with my hands. I started in ceramics and when I graduated high school, I wanted to get welding certified because I had already started teaching myself how to weld. I then realized at the first college I attended, you couldn't be enrolled in the vocational side and the academic side at the same time. So, I picked sculpture because it offered welding and metal casting and continued with art. I did three years there and received my associate's degree. From there I basically walked across the street to the University of North Florida and spent another four years there and received my BFA in sculpture.
Are you welding certified now?
Not officially, no. Haha! But I can weld pretty well.
What type of artist do you consider yourself in the sculpture community?
I don't know. I definitely fabricate a lot of things. I use a lot of what you would consider traditional materials and processes. I'm antiquated in that regard I guess as some people would see it now. I have a focus in certain skills like that and a lot of people who are entering sculpture now don't even have those skills anymore. They might not see it as an important part of it [sculpture]. But focusing on those skills is important to me and I'm trying to keep it alive.
What artists or type of art inspires you?
A lot of my contemporary peers in the iron casting community. People who are not just big professional well-known artists but who are still in academia. Being part of the sculpture park is nice because you can see a mix of artists coming through. You get to see new pieces they're working on and you get a chance to create a connection with each artist.
Could you talk about the Yokna Sculpture Trail?
Yeah, so, the sculpture trail is one of the big things that brought me here. I was working on my BFA when I was introduced to Jerry Massey and started working at a sculpture park in Indiana called Sculpture Trails Outdoor Museum. That became a big portion of my life for five years, every summer. One of the big selling features of Ole Miss was the connection with the Yokna Sculpture Trail and having the opportunity to continue that knowledge base of working with artists, installing their work, and being able to make large work. It's a great resource here.
What was your favorite class during your years here?
Our Professional Development class with Ginny was great. We went on some really awesome trips to see local artists and some that weren't quite local. Being able to see them outside of the academic bubble was a really good learning experience. It also helped to branch out and networking with them.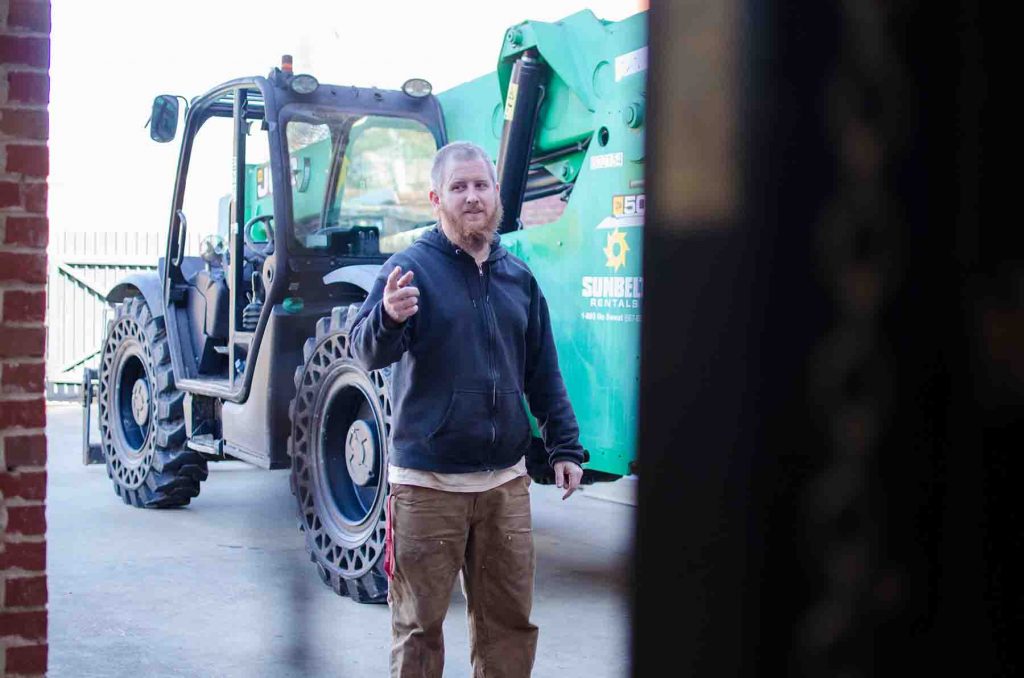 I know you are a part of the UM Sculpture Society. Could you tell us about your experiences with attending sculpture conferences?
Yeah. We were in-between years when Gabby, my studio mate, and I got into grad school so we have a big conference for iron castors called National Conference on Contemporary Cast Iron Art and Practices which is held in Alabama. We were both parts of that conference. I was part of the heavy-lift crew which helped out with the forklift and telehandler work to help move furnaces and different things around the site. Gabby was part of organizing the workshops.
What does the Department of Art & Art History mean to you?
It's a place that is different from the rest of the campus. We have a unique set of students compared to the rest of the student population. It's interesting because you can see that sprinkled throughout the school; especially with getting to place public works of art around the campus. It's really nice to show people what we do in the department because they might not understand what exactly we do here.
What are your plans after graduation?
I have a few applications out, but I'm keeping my options open for any opportunity. I have applied and for an apprenticeship position at the Metal Museum (formally known as the Ornamental Metal Museum) in Memphis, TN. If that doesn't pan out, I'll probably move some of my equipment back to Florida for the time being. I've also thought about opening up a shop of my own, and teach classes while doing freelance sculptural fabrication work.
Is there any advice you would like to give to incoming art students?
Don't be discouraged with job prospects. It is an important aspect but being able to explore what it is to be an artist and look outside of the bubble you've been in if you're coming from somewhere else. Keep an open mind and look at the different resources you have and be able to explore those. Just be a sponge and soak up all the input you get from your peers and professors.
What are you listening to right now?
I listen to a lot of podcasts when I'm working but the other night I was listening to Del the Funky Homosapien. I also listen to Deltron 3030, and all sorts of stuff!
Are you binge-watching anything at the moment?
Not really, but I started watching Westworld.
What is your favorite Oxford spot to hang out?
The Blind Pig. Good food.
What's your go-to restaurant in Oxford?
Bottletree for the fresh baked bread and lunch sometimes.
What is your favorite time of year in Oxford?
Probably springtime, because you get out of the weird cold slump. It's more sunny and cool out, plus it's great outdoor work weather.