By Doug MacCash | Staff Writer for Nola.com | OCT 3, 2019
Click here for the original article including all artists.
As Poydras Street commuters have surely noticed, five eye-catching new sculptures have appeared recently along the street's neutral ground. One was created by an internationally renowned Louisiana artist, who also happens to be a 1970s feminist firebrand. Another was designed by one of the country's best-known self-taught artists.
The artworks are the latest additions to "The Poydras Corridor Sculpture Exhibition Presented by the Helis Foundation." The ongoing exhibit of modern art on Poydras Street was begun by Michael Manjarris, co-founder of the Sculpture for New Orleans project that helped beautify the cityscape during the post-Katrina recovery period.
The rotating selection of 20 sculptures that stretches along Poydras from the Interstate 10 overpass to Fulton Street is the Crescent City's greatest drive-by art exhibit.
The sculptures, which were selected by a committee including Manjarris and representatives of the Ogden Museum of Southern Art, are on loan from the artists.
The city allows the sculptures to be installed on the neutral ground, which it maintains. But the installation and other costs are paid for by the Helis Foundation, an art philanthropy.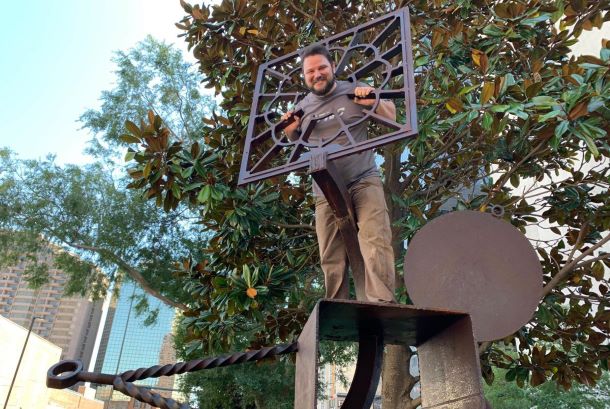 "Dingbat" by Earl Dismuke — At the corner of Camp Street.
Oxford, Mississippi, artist Earl Dismuke said his sculpture is "about being born in rural Mississippi and growing up there." Storytelling is a big part of the culture there, he said, and he hopes his sculpture has the same sense of yarn weaving.
The 11-foot steel sculpture looks a little like a backwoods robot with a cast iron oven grate for a face and an outstretched right arm. "My mom used to call us dingbats growing up," he said, explaining the title.
---
Earl Dismuke is a Mississippi sculptor who is dedicated to enhancing community life through the power of public art, all the while pursuing his passion of creating his own body of work. He graduated in 2007 from the University of Mississippi with a Bachelor of Fine Arts degree with an emphasis in sculpture. Earl is a co-founder of the Yokna Sculpture Trail, a bi-annual rotating outdoor sculpture exhibition in Oxford, Miss. He is a recipient of the Mississippi Arts Commission 2019 Visual Arts Fellowship Grant, and a member of the International Sculpture Center. Examples of his work have been included in several international and national exhibitions, including but not limited to, Scope Basel in Basel, Switzerland, Lima, Peru, and several gallery and museum shows. In 2018, he curated the outdoor portion of the first major indoor/outdoor exhibition of the University of Mississippi's Museum of Art. The show featured the work of internationally renowned sculptor, George Tobolowsky. Earl recently led the effort to bring his hometown, Oxford, Miss. its first major outdoor mural. He is interested in connecting with people through art.
Website: earldismukeart.com/