Introduce yourself and tell us where are you form.
My name is Cecelia Moseley and I am from Meridian, MS.
What attracted you to the University of Mississippi Department of Art & Art History?
When I toured the art department as a high school senior, I knew I was supposed to go to Ole Miss.
What made you pick the area of concentration you're currently studying?
I thought I would be a painter going into college, but after taking my first 3D sculpture class things began to change. I was torn on what to do so I took a semester off from a sculpture class and realized how much I missed working with my hands.
What type of artist do you consider yourself?
Metal fabricator – favorite welding technique: MIG welding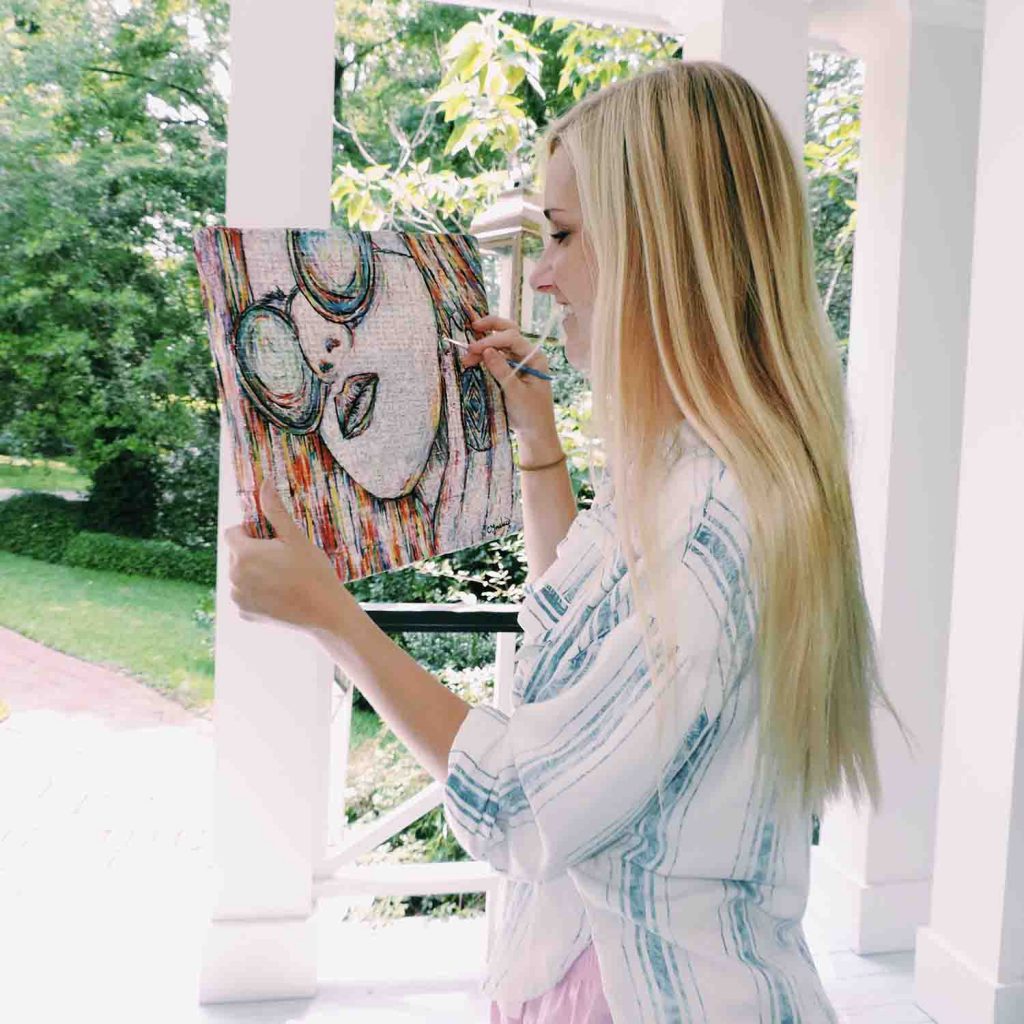 Could you talk about your BFA Thesis?
Dyslexia changes the way millions of people read and process information that can then shape self-image and confidence. For me, language and expressing myself through writing has always been a struggle. In my work, I try to express these traits in new ways by showing a language that breaks down the components into three-dimensional planes using fabricated forms and rearranged letters. Through the use of jumbled letters and visual planes, I create compositions that reflect my language conflicts. This body of work intends to depict the intangible, mental frustrations that are not really visible to the everyday person. For those that do not exactly know what dyslexia feels like, I hope to express those frustrations through creations representing my own personal experiences.
Which professors mentored/inspired you the most?
Durant because he pushes me to do more. In my 3D design class with Stacey freshman year, I was building a Ford Model A out of wood for a planes project. This was my first time working with wood and my design was already complex. After working night shop hours, Durant came in and was looking at the Model A I was making and I was almost finished. He said you know what would make it better if the car wheels could work. I had already spent so much time and thought it was the best thing I've ever done, but he said that there could be more. Overall, since the beginning, Durant has pushed me, though I do push back at times and I am stubborn, he keeps me on tract and gets me to do and create things that I never thought I could do.
Have you attended any conferences with your student organization?
Sloss Metal Arts NCCCIAP (National Conference on Contemporary Cast Iron Art and Practices) 2019 Birmingham, AL.
Could you describe any good experiences here in the department?
One of my favorite things that goes on at the art department is Iron Pour Friday which is once a semester. This involves teamwork and brings artists and lovers of casting together. As a Freshman, I got to watch and my Sophomore year I participated and have been ever since. It is one of the most exciting and dangerous things I've ever done and been apart of.
What does the Department of Art & Art History mean to you?
It is a community of people who push and support creativity and dreams. It is a home because of the people that make up the department and because of how much time I spend there.
What are your plans after graduation?
Hopefully to attend graduate school.
Is there any advice you would like to give to incoming art students?
My advice is to not be shy and step out of your comfort zone because once you do the more growth as a person and artist you will be.
Can we find you/your work on social media?
Yes, Instagram @cc_art_design and Facebook CC Art Design.
What is your favorite Oxford spot to hang out?
South Depot.
What's your go-to restaurant in Oxford?
South Depot!
What is your favorite time of year in Oxford?
Fall because of the trees changing colors and its not too hot or too cold.