BFA Interview Process
BFA Interviews for Spring 2022
An application can be found here!
Applications and multiple-page PDF of images are due by Monday, February 21, 2022.
BFA Interviews will be held on Friday, February 25, 2022. (Time slots will be determined after registration.)
Students must have completed 18 studio hours to be eligible for interviews.
Students must have the approval of the head of the area for which they are applying.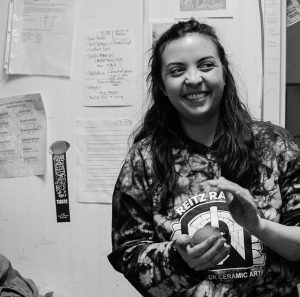 To apply:
Fill out the online application and attach a PDF of your current, unofficial transcript (and transfer equivalency report, if applicable) through the provided application link.
Document 10–20 examples of your artwork and create a multiple-page PDF from the digital files. Contact your area head concerning artwork selection and documentation support. The PDF should be uploaded to OneDrive no later than Monday, February 21, 2022. A link to upload will be provided to you upon application acceptance.
From your curated artwork, create a slideshow of your images to share with the faculty for your interview presentation. This slideshow can be derived from your curated PDF, a PowerPoint, or related presentation software.
You will be expected to give a 10-minute presentation at the beginning of your interview. Be prepared to answer questions from the faculty following your presentation.
Interviews will be conducted via Zoom. You will be assigned a timeslot and Zoom meeting ID upon acceptance.
If accepted into the program, the student will participate in BFA reviews each semester until the thesis semester. Grades in Department of Art & Art History courses of less than a "C" will not be counted toward this degree.
Detailed instructions and additional information about the BFA Interview process can be found through the application link!