Step into the World of Floral Magic at The French Potager
By Old Town Bay St Louis
Step into the world of floral magic at The French Potager, LLC., a crown jewel of Old Town Bay St. Louis, where botanic artistry meets Southern charm. This upcoming Second Saturday, join The French Potager in celebrating the vibrant life and remarkable achievements of Martha Whitney Butler, the heart and soul of The French Potager.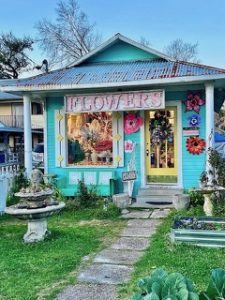 An award-winning floral designer, Martha Whitney is a beacon of innovation in the world of botanical couture, bespoke wedding florals, and floral education. Her unparalleled talent and creative spirit earned her the title of Certified Floral Designer in 2022, and soon she will be inducted into the prestigious American Institute of Floral Design in July 2023. No wonder she's deemed one of the top floral designers in Mississippi!
But her impact doesn't stop there. Martha Whitney was featured as MSU Coastal Extension's "Inspiring Designer 2023," a Main Stage Presenter at AIFD Southern Chapter's regional meeting and continues to share her passion and knowledge through demonstrations, presentations, and classes throughout the South. Notably, she also founded the Raw Oyster Marching Club, a vibrant group of women who add their own unique flair to local parades.
The French Potager is more than a florist; it's a celebration of life, color, and creativity, delivering unique and breathtaking designs along the Mississippi Gulf Coast and beyond. From exquisite flower crowns to ambitious floral installations, The French Potager is a testament to the power of nature's beauty skillfully crafted into unique designs.
And what better time to immerse yourself in this captivating world than the upcoming Second Saturday, which coincides with the fabulous Frida Fest? The French Potager's hotspot promises an afternoon of joy and celebration, with DJ Sidehustle setting the perfect ambience from 3 pm to 6 pm. In true Potager spirit, shoppers will receive a delightful cactus starter with purchases over $50. The occasion also doubles as a celebratory feast for Martha Whitney's induction into the American Institute of Floral Design and her birthday.
Join us this July 8th, as The French Potager turns into a vibrant carnival of botanical marvels, music, and a community reveling in the world of floral artistry. For a taste of Southern charm and exquisite floral designs, nothing quite matches the experience at The French Potager. Because at the end of the day, life, like a good bouquet, is all about the right blend of elements.
Portraits by Brandi Stage Portraiture